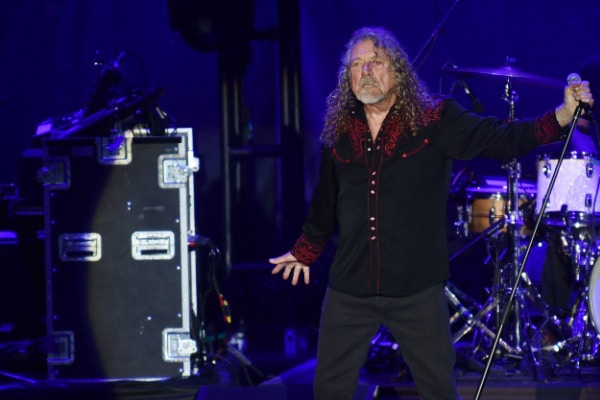 During an onstage concert with Alison Krauss over the weekend, Robert Plant celebrated his 74th birthday.
Plant was performing alongside Krauss as part of their live tour at the Lake Tahoe Outdoor Arena in Nevada.
During the gig, Robert Plant's son Logan and grandchildren wheeled a birthday cake onto the stage, which was decorated with yellow and black balloons, as the crowd led a chrous of 'Happy Birthday'.
The cake's colours of course resembled Plant's beloved football club Wolverhamptom Wanderers. You can see footage of this below.
Robert Plant was the frontman of legendary rock band Led Zeppelin for more than 10 years, leaving the band in 1982.
During his time as Led Zeppelin frontman, the band sold 70 million records in the US, with their track 'Stairway To Heaven' played more times on American radio than any other track.
Since then, he has sold 11 albums as a solo artist, with the most recent record being 2017's 'Carry Fire'.
"doesn't really satify my need to be stimulated"
A few days ago, Robert Plant had already revealed that he has little interest in rejoining Led Zeppelin.
"Going back to the font to get some kind of massive applause – it doesn't really satisfy my need to be stimulated", he stated in a recent interview.
Plant is also not a massive enthusiast of current Led Zeppelin frontman Joe Elliot's vocal warm up routine.
"I just go out and sing", Plant said.
"I know a guy from a famous band that Alison's quite friendly with – he's gonna pour some sugar on me or something – who creates a complete hullabaloo backstage. I was back there one time and he was making such a bloody noise. I said, 'Why are you doing that?' He said, 'I'm warming up.' I said, 'Well, you won't have anything left by the time you get there".