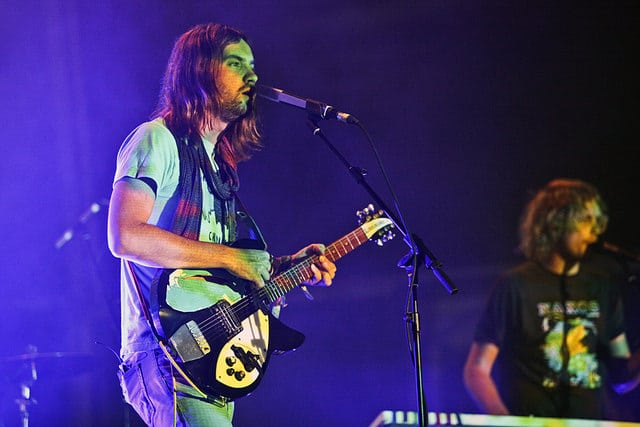 Tame Impala have released a new music video for their track 'The Less I Know The Better'. The track is from the band's newest album Currents which was released earlier this year.
The video follows the story of a high school basketball player whose girlfriend leaves him for his team's gorilla mascot named Trevor. It is the third video to be released from the new album after 'Cause I'm a Man' & 'Let It Happen'.
Tame Imapala recently won a number of awards at the ARIA last night. The award ceremony celebrating the Australian recording industry was held in Sydney yesterday evening.
The band went home with three awards last night as they won Best Group, Album of The Year and Best Rock Album. Fellow Australian rocker Courtney Barnett also won three awards for Best Female, Best Independent Release as well as Breakthrough Artist.
Tame Impala frontman Kevin Parker recently spoke about the issue with fans downloading music. Parker said "There are some CDs I saved up for months to buy when I was doing a paper round, I'd literally spend two months saving up to buy a CD" however adding that "But then later in life my friend would burn me a CD that he'd downloaded illegally and it was just as much of a powerful experience."
You can watch the new Tame Impala video for 'The Less I Know The Better' here.
Photo Credit: scannerFM