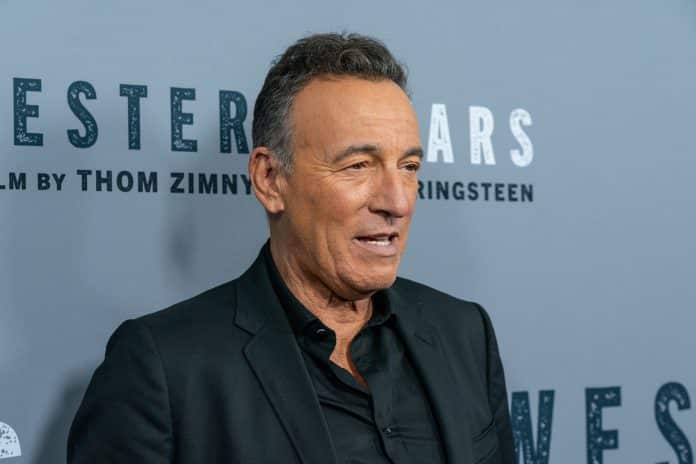 The first trailer for the new Bruce Springsteen documentary, 'Letter to You' has been released by Apple TV.
The documentary showcases the making of Springsteen's new album, also called 'Letter to You'. Both the album and documentary are to be released on October 23rd. The documentary is available through Apple TV. You can watch the trailer below.
'Letter to You' sees The Boss reunite with The E Street Band for the first time since 2014's album 'High Hopes' Springsteen has released two songs from the upcoming album, the title track and 'Ghosts'. The new album was recorded over five days. The recording of the album and documentary was completed in pre Covid times back in November of last year. The new album is available to pre order now and comes in a vinyl format and a digital version.
The documentary gives viewers a behind the scenes look of the making of the album. It also includes performances from Springsteen and The E Street Band. Previously unreleased compositions from the 70s are also included in the documentary.
Per the official press release: "Throughout the documentary, Springsteen shares his thoughts and feelings behind "Letter To You" and puts the new music into the context of his entire body of work. In that way, it's the next piece in the autobiographical series that began with the memoir 'Born to Run,' continued with 'Springsteen on Broadway' and advanced through his film 'Western Stars."
'Letter to You' was written by Springsteen and directed by frequent collaborator, Thon Zimmy. The pair worked together on 'Western Stars' and 'Springsteen on Broadway'. Long time friend and collaborator Jon Landau also worked on the new documentary. Barbara Carr also co-produces on the new documentary.
"I started playing the guitar because I was looking for someone to correspond with, and after all this time, I still feel that need to talk to you," Springsteen narrates. "Age brings perspective, and after all these years, my friends, wherever you are, you are the reason we're here".
Springsteen recently announced that he has a lot of projects to work on in the future and is planning on releasing previously unheard music from his extensive archive. "There's a lot of really good music left. You just go back there. It's not that hard. If I pull out something from 1980, or 1985, or 1970, it's amazing how you can slip into that voice. It's just sort of a headspace. All of those voices remain available to me, if I want to go to them."
Next month, Springsteen is due to make an appearance at the Rock and Roll Hall of Fame. It has been suggested he is there to honour Jon Landau, as Landau is the recipient of the Ahmet Ertegun award. Click here for more information about the Rock and Roll Hall of Fame ceremony.
Letter to You track list
1. One Minute You're Here
2. Letter to You
3. Burnin' Train
4. Janey Needs a Shooter
5. Last Man Standing
6. The Power of Prayer
7. House of a Thousand Guitars
8. Rainmaker
9. If I Was the Priest
10. Ghosts
11. Song for Orphans
12. I'll See You in My Dreams