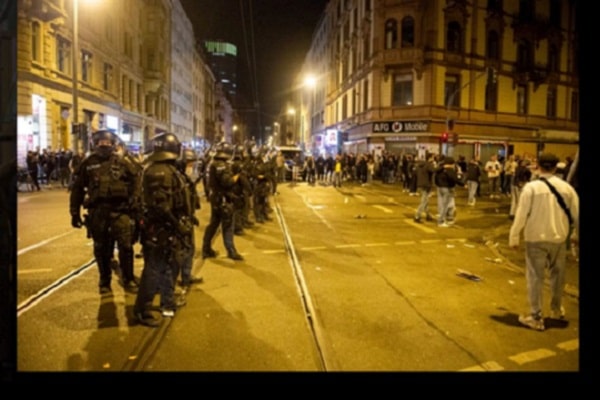 It has emerged that Riot Police were called into action to deter Franfurt Ultra supporters from attacking West Ham fans following last night's Europa League semi final.
This comes as Eintract Frankfurt knocked the London club out of the compettion.
They won 1-0 in their home patch last night, securing a 3-1 aggregate victory. This game also saw West Ham defender Aaron Cresswell sent off in the first half, and manager David Moyes dismissed late on.
From Zagreb to Frankfurt.
Those special nights at London Stadium.
Beating six-time champions Sevilla at our place.
Lyon away. What a night that was.
Our European journey is over, but we hope we made you proud.
Come On You Irons.❤️⚒

— West Ham United (@WestHam) May 5, 2022
Following the match, thousands of Frankfurt fans also invaded the pitch, before being escorted off by police.
Police Pelted With Bottles
Things began to take a turn for the worst after fans left the ground. Frankfurt fans were throwing bottles and other items as they celebrated their side's victory.
It was reported that approximately 1,000 German fans appeared to make their way towards the main train station.
Police also decided to hem in the 2,500 West Ham fans who had grouped together to watch the match. They had been unable to secure a match ticket for this game.
Most of these fans had also been drinking all day in O'Reillys' pub. Police also made their way to the pub, to try and calm the violence down. However, they soon were on the receiving end of missiles and bottles.
Police also reported that 30 arrests were made last night, with the majority of supporters being German.
West Ham fans were also praised by police for being largely on their best behaviour. Police also apologised for the "shameful" conduct of the Frankfurt supporters.
However, two Irons supporters did become embroiled in a fist fight. An ambulence was called to attend to one supporter, while no arrests were made.
There had already been reports of trouble with the Frankfurt supporters. West Ham supporters were also attacked by German fans for the second night running.
West Ham fans had been drinking in Waxy's Pub and watching the semi final, when a group of Frankfurt Ultras donning face masks and wearing all black attacked them.