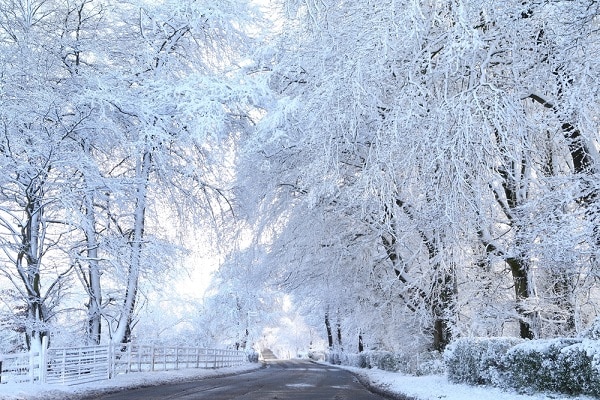 Heavy snow is reported to hit parts of the country tonight with a 24-hour weather warning put in place. It has been reported that the weather was set to become more wintery over the these few days. Met Éireann have a warning for most of the country as wintry snow showers could hit different parts of Ireland on Thursday.
The news comes after the service issued a Status Yellow snow and ice caution for counties Donegal, Galway, Leitrim, Mayo and Sligo. It states that the weather will have "heavy wintry showers of hail, sleet and snow expected overnight on Thursday, with reduced visibility and accumulations likely in places."
Tonight, it will be very cold with widespread sever frost and ice as the temperature plummets below 0°. The wintery weather will mainly hit higher ground with icy showers that become less frequent by morning, when temperatures rise to 3° C.
Ireland's west coast will feel the brunt of these bitter conditions but, freezing showers hitting other parts of the country cannot be ruled out. A forecaster said: "Bitterly cold day with widespread heavy showers early on, some of which will be wintry, along with isolated thunderstorms.
"Showers will gradually become confined to Atlantic counties, with spells of winter sunshine developing elsewhere. Highest temperatures of just 2° C to 5° C, coldest over Ulster, all in light to moderate west to northwest breezes.
"Very cold tonight with a widespread sharp to severe frost and possible icy stretches. Overall dry with long clear spells. However, a few wintry showers will persist closer to the Atlantic, along with isolated thunderstorms. Lowest temperatures of 0°C to minus 3° C, in light to moderate northwest breezes."
The country might be covered in frost on Friday morning, with road users being urged to take it easy as icy stretches may blanket roads. Although, despite the freezing conditions, the weather will be mostly dry and sunny all day.
Met Éireann warn of weather changes as temperatures drop again
However, the north-west will be at risk of hail and thunderstorms. More rain and local hail showers will arrive on Friday, with some sleet arriving too. Met Éireann also warn of icy winds, with temperatures again dropping to 0° C.
"Saturday will bring further scattered showers," said the forecaster. "Some good sunshine developing through the day too, especially away from eastern and western counties.
"Breezy to start, with moderate to fresh northwest winds, but winds will moderate during the day. Highest temperatures will range a cool 5C to 8C with an added chill factor.
"Some lingering showers in eastern coastal areas on Saturday night, but most areas will be fully dry with clear skies. Very cold with lowest temperatures of -3C to +3C, with a widespread sharp frost. Mist and fog locally too, in light north-westerly breezes.
"Sunday should be a largely dry day with light northerly breeze and plenty of bright winter sunshine. Some showers may present though, with eastern fringes most at threat. Another cold day with highest temperatures of only of 3C to 7C.
"Continuing cold on Sunday night with frost and ice, as temperatures drop to around freezing countrywide."
With some terrible weather reportedly on the way, hopefully Ireland can enjoy a happier end to 2020 with a white Christmas.