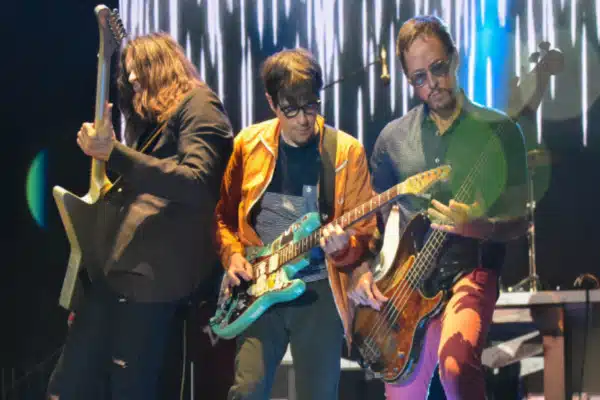 "Low ticket sales" have forced Weezer to cancel their upcoming residency at Broadway.
Due to begin on September 13, the band were set to hit New York's Broadway Theatre for five dates, with each gig set to focus on a different 'SZNZ EP'.
Weezer were set to focus on 'Spring' on September 13, before moving onto 'Summer' the following day. September 16 was to see the band focus on 'Autumn' and 'Winter' on the following day.
A fifth date was also billed, as the 'Encore' set, scheduled for September 18.
"very sorry" – Cuomo Confirms Cancelled Weezer Shows
However, Weezer have confirmed via their Discord page, that these shows have been cancelled due to low ticket sales.
"I just learned that our Broadway shows have been cancelled (due to low ticket sales and unbelievably high expenses.)", frontman Rivers Cuomo wrote. "I'm very sorry to be telling you this now after we've already invested so much time, thought, and emotion".
"Extra apologies to those of you who cleared schedules and made travel plans to be with us. Thanks to @Broadway Producer for all your hard work and great ideas. I loved where we were going and I hope we can find a way to resurrect our vision".
Having released the 'Spring' and 'Summer' EPs last year, 'Autumn' is set to be released on September 23, while 'Winter' will arrive on December 21.
Weezer have been very busy in 2022.
Back in February, Rivers Cuomo had announced the release of a brand new streaming app, showing thousands of demos, called Weezify.
The app itself was described as a "Spotify-like player for all of Rivers Cuomo's demos (1975 – 2017). Close to 3,500 demos. Follow curated playlists. Create playlists of your favourites. I made this app myself. It took me all of 2021 to make. I hope you enjoy it".
March also saw Cuomo confirm the release of a Weezer themed wordle game called Weezle. More on this from Nova here.