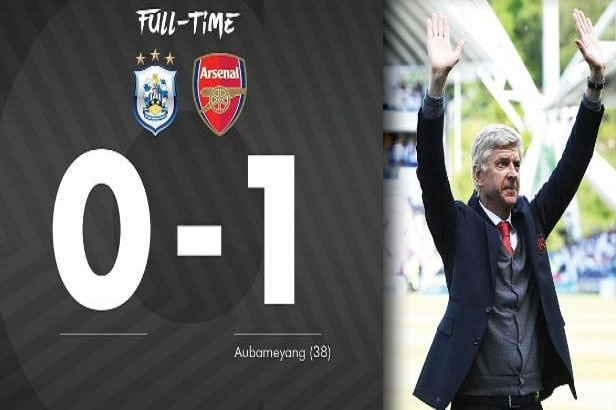 Wenger's finished his 22-year reign as Arsenal manager with a win. His side secured a 1-0 victory at Huddersfield on the final day of the Premier League season. Wenger was given a guard of honour by both teams ahead of kick-off.
For 22 years, for 1,235 games, for 49, 49 undefeated, for 7 FA Cups, for 3 @PremierLeague titles, for two Doubles, for winning the league at Old Trafford and White Hart Lane, for Wengerball, for the Invincibles, for your total love and devotion, we want to say… #MerciArsène❤️ pic.twitter.com/xkRXjLAid2

— Arsenal FC (@Arsenal) May 13, 2018

Meanwhile, Liverpool have a top four place thanks to a 4-0 victory at home to Brighton – with Chelsea falling flat in a 3-0 defeat at Newcastle. Swansea are officially relegated after losing 2-1 to Stoke.
Meanwhile – Tottenham have ended their time at Wembley with an incredible 5-4 victory over Leicester.
Champions Manchester City sign off with a 1-0 triumph at Southampton – to move onto 100 points – with Manchester United winning by the same score at home to Watford.
West Ham beat Everton 3-1, Crystal Palace were 2-nil winners over West Brom – and Burnley lost 2-1 at home to Bournemouth.
And that's it!

Arsène Wenger's 1,235th and final match in charge of us is over – and it finishes 1-0 to the Arsenal 😃#MerciArsène pic.twitter.com/pxaEgBhTZe

— Arsenal FC (@Arsenal) May 13, 2018