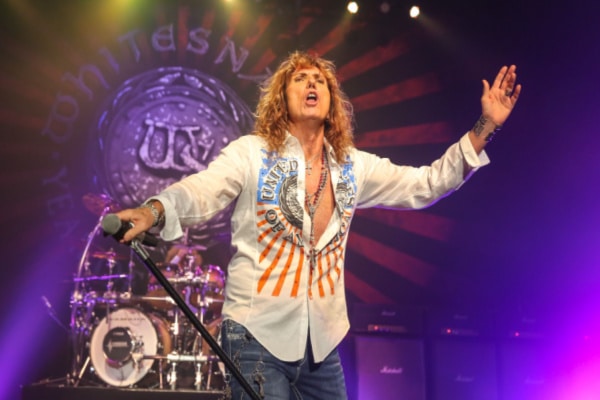 Whitesnake's Farewell MMXXII Tour has been disrupted, after their frontman David Coverdale was taken ill. Coverdale has been suffering with a sinus and trachea infection.
This news has led to three European shows being cancelled. These cancelled gigs include Vienna, Austria on June 30, and Zagreb, Croatia on July 2.
Last night's gig in Milan, Italy was also affected. More information on the band's tour here.
In a statement, Whitesnake have revealed that Dave Coverdale has been been told not to perform for the next four to five days.
"This is obviously very sad for us, especially our band members that were getting to perform before hometown crowds; Michele Luppi, our Italian Stallion was looking forward to playing in Milan in front of his friends and family, and of course Dino Jelusic, the Pride of Croatia was going to be able to give his all, to his hometown of Zagreb", they said.
They also added, "We regret that this is necessary in our attempt to get healthy and be able to finish the rest of our tour".
Whitesnake Dismiss "Misleading" allegations
Whitesnake have faced strong criticism, in light of these cancelled shows.
The festival promoters have accused the band of breaching their contract. They have alleged that the band failed to inform them of their reasons for cancelling the shows, and disrespecting fans.
They also added, "they [the band] threatened us with denigrating the organisation, with absurd and unfounded complaints about organisational problems in order to be able to perform their show". 
However, Whitesnake have dismissed these claims, calling them "misleading".
"The rigours of the road are the same for all of us and we have been trying to keep everyone healthy and safe," the band stated. "Unfortunately we have been hit recently with a couple of situations that we have been dealing with, the best we can".
These "situations" have included drummer Tommy Aldridge falling ill. He was forced to miss the band's weekend show at the Imperium Festival in Spain.
Meanwhile, guitarist Rob Beach had also missed earlier shows, having fallen ill.
Their next scheduled show is fixed to take place in Budapest, Hungary on July 4.
In other news, Red Hot Chili Peppers will perform at Dublin's Marlay Park tonight. More on this here.