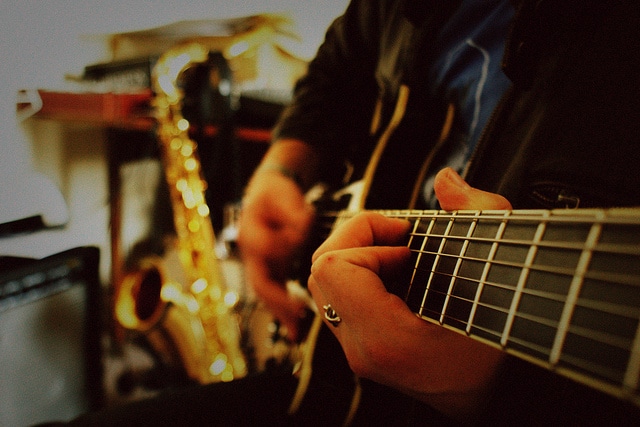 BBC Radio 2 listeners have been voting on the Greatest Guitar Riff of all time and the results are in.
All summer Radio 2 fans have been voting from a list of one hundred guitar riffs. The list was compiled by a panel of Radio 2 and 6 Music DJs, critics and record producers.
Some of the riffs that didn't even make the top 10 include, Steppenwolf's Born To Be Wild, Blue Öyster Cult's (Don't Fear) The Reaper, The Rolling Stones' I Can't Get No Satisfaction and Jimi Hendrix's Purple Haze.
So according to BBC Radio 2's listeners the top ten Greatest Guitar Riffs of all time are:
At number 10, Pink Floyd – Money.
At number 9, The Kinks – You Really Got Me.
At number 8, Dire Straits – Money For Nothing.
At number 7, Status Quo – Down Down.
At number 6, The Smiths – How Soon Is Now.
At number 5, Derek And The Dominoes – Layla.
At number 4, Deep Purple – Smoke On The Water.
At number 3, AC/DC – Back In Black.
At number 2, Guns N Roses – Sweet Child Of Mine.
And finally at number 1, Led Zeppelin Whole Lotta Love.
Led Zeppelin's guitarist, Jimmy Page, told BBC Radio 2 he was "knocked out" by winning the vote.
"I wanted a riff that really moved, that people would really get, and would bring a smile to their faces, but when I played it with the band, it really went into overdrive. There was this intent to have this riff and the movement of it, so it was menacing as well as quite sort of caressing." Page said.
Music producer and panellist Steve Levine said, "Whole Lotta Love is one of the most important guitar riffs of the 20th century. The moment you hear literally two notes of it, you know exactly what it is."
If you want to see the 100 songs that were included in the Greatest Guitar Riff of all time click here.