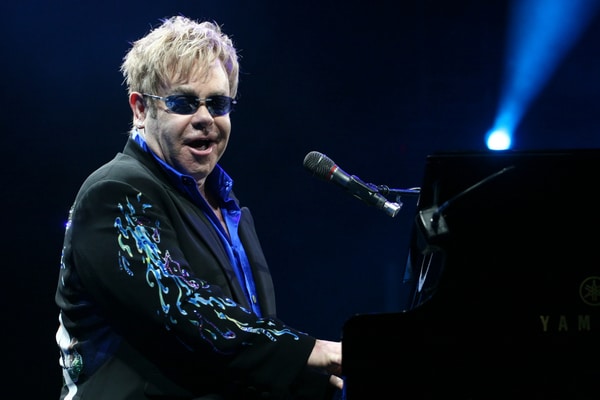 Music manager Jerry Heller has claimed that Elton John was quite reluctant to cross over to America for the first time.
Heller was also the booking agent who helped Elton over to the US in 1970. He said that the icon was not too sure about making the trip across the Atlantic.
"A friend of mine in England had told me about him", Heller said in a recently unearthed interview. "I loved what he was doing". 
"everything will be fine"
Elton John was reportedly concerned that American audiences would not be keen on his music, as he would not be able to reproduce songs from his 1970 LP which included lush arrangements.
"I talked to him on the phone", Heller revealed. "He was terrified to come here because Paul Buckmaster and Cynthia Buckmaster had 100 synthesized strings on that record. And he said, 'Jerry, how can I come here with a trio?'" Heller was reassuring: "I said, 'You just some here. Everything will be fine". 
Moving to America in the Summer of 1970, Elton John's first stateside performance came on August 25 at the Troubadour.
Jerry Heller had pointed out that Elton had already played "sort of an impromtu thing" Peter Asher's house. "And, of course, the first night at the Troubadour, he was a superstar", he added.
It was not long before an in-demand Elton John was getting more concert dates. Heller soon added him to the Derek and the Dominoes tour, which "wasn't doing fabulously well".
"I put Elton on with Derek and the Dominos and immediately the tour started to sell out", Jerry Heller had recalled.
Not long after, Heller soon moved Elton John onto his assistant Howard Rose who has remained John's US manager ever since.
Speaking in more recent times, Elton John is to feature in an upcoming Eddie Vedder album. The album will arrive on February 11. More on this report from Nova here.
Other music stars that Heller can boast on an impressive CV also include Pink Floyd.
"Nobody had heard of them here", Heller said of the band. He also added that "there was an incredible buzz in England going on about 'The Floyd". 
Heller's faith in the band's stateside prospects was ultimately justified.
"The first date at Santa Monica Civic sold out in 17 minutes, and the promoters had never even heard of them", he said.