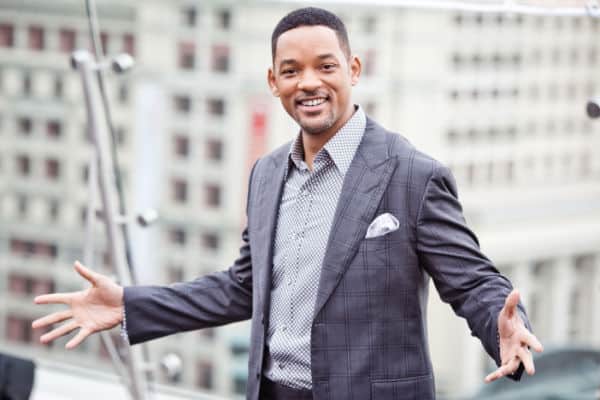 Will Smith made his first appearance at an Awards ceremony since his on stage Oscars spat with Chris Rock.
Smith was accepting an award at the African-American Film Choice Association Awards for his work on his latest film, Emancipation. See trailer here.
This marked Smith's first on stage awards appearance of any description since his much publicised altercation with Chris Rock at last year's Oscars ceremony.
This altercation saw Smith strike Chris Rock in the face after the comedian joked that he would love to see Smith's wife Jada Pinkette Smith in the next GI Jane film, referring to her baldness.
Jada was diagnosed with alopecia in 2018, and this led to Smith walking onto the stage, before slapping Rock in the face.
This incident led to Smith being banned from all Academy events for the next 10 years, along with apologising to Rock.
"doing what you do to keep our stories alive"
Accepting the award, Will Smith paid tribute to the fans for "doing what you do to keep our stories alive", along with thanking the cast and crew.
Alongside director Antoine Farqua, Smith stated that Emancipation "was the individual most difficult film of my entire career".
He also added that he hopes that the movie, would provide "just a subtle possibility to change a heart, or to change a mind".
"I remember it was the second day of shooting and it's really difficult to transport a modern mind to that time period. It's difficult to imagine that level of inhumanity", the Fresh Prince of Bel Air star continued. "I remember it was the second day of shooting, you know 110 degrees, we're out there and I was in a scene with one of the white actors. We had our line and the actor decided to ad-lib".
"So we're doing the scene and I did my line and he did his line and then he ad-libbed and spat in the middle of my chest".
While jokingly pulling a shocked face, Smith also added,  "If I had pearls on, I definitely would have clutched them".
Smith also joked that he wanted to call the director for help, before realising that his character would never do such a thing.
"So I sat there and I took a deep breath and we did take two and the actor felt that the ad-lib had gone well", Smith said. "So we do take two and I do my line, he does his line and spits in the middle of my chest again".
"I just held in that moment and there was a part of me hat was grateful, right, that I got to really understand".