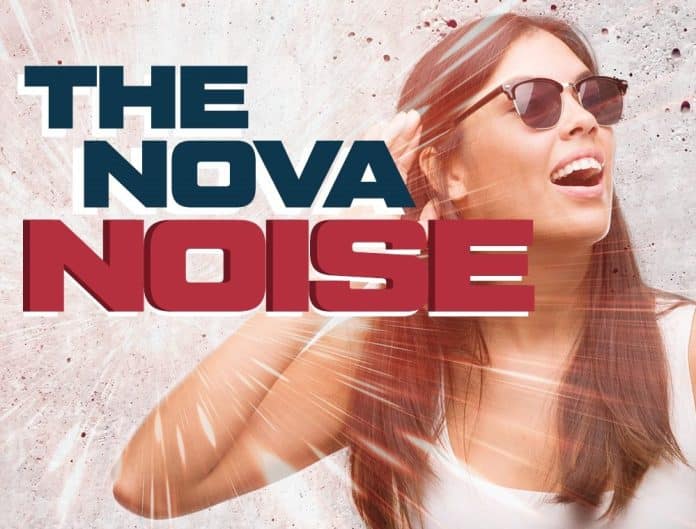 The Nova Noise, is worth €4,550!
The most frustrating noise on 'Morning Glory with PJ & Jim' at 730am and 830am each weekday, 11am with Marty Miller on [email protected] and on Nova Drive with Pat Courtenay at 5pm.
Each time we play we will be giving 3 people the chance to guess the noise and win BIG cash!
And if you call and guess the noise correctly when we play at 730am with PJ & Jim, you win the Early Bird Bonus of a "GALLAGHER GRAND" – an EXTRA €1,000 OF PJ's MONEY!
You need to call 01 440 4100 to play the game when we open the phone lines.
To help you win the cash here is a clue: YELLOW!
And here are the incorrect guesses so far. Just click CONTROL & "F" and type in a keyword from your guess to see if it has already been on air before you call.
Car driving in the rain and wipers going once
Dyson hand dryer on and off
Setting up on a tee box and swinging a golf club
Dishwasher releasing the tablet
Electric car window closing
Dishwasher arm hitting a plate
Tumble dryer drying clothes
Closing the sunroof on a Nissan Qashqai
Washing machine with a shoe inside
Car wash starting and someone locking the doors
Shower going on and closing the door
Opening tumble dryer door
Kettle coming to the boil and switching off
Getting out of the car, closing the door and leaving windscreen wipers on
Microwave running and opening the door
Getting a towel out and putting it on toilet seat while shower is on
An open industrial fridge or freezer being closed
Washing machine being paused or stopped
A book closing
Closing a shower door
A bird flying into a window
Turning off extractor fan
Pool ball going down the table and into the pocket
Swinging golf club and hitting golf ball
Shoe hitting the inside door of tumble drier
Ball shooting from a tennis ball machine
A needle in contact with vinyl on a record player
Petrol station pump in the background while closing car door
Dosing ball in a washing machine
Dishwasher releasing the tablet
Burner starting on the boiler
Dart being thrown and hitting dart board
Throwing a lump of meat on chopping board while frying pan is on
Door of an electric car
Cabin door on an plane
A photocopier
Someone outside their car closing the boot
Adjusting the settings or turning off a dehumidifier
Car running and door closed
Boot being closed from inside the car
Office air conditioner being switched on and off
Lifting up the basket of the deep fat fryer
First pop of microwave popcorn
Conveyor belt at an airport
Soccer player giving a ball a big kick
Hatch window being closed on a Dublin Bus
Hazard lights on while someone locks the door on a car in the rain
Closing a glove box
Dog catching a ball
Bingo machine sucking up the balls
Car going up the ramp for the NCT test
Finishing pumping petrol
Train moving slowly on tracks
Automatic lock on a washing machine
Wipers on a car starting
Revolving door brushing off its frame
Car window being closed
Needle connecting with vinyl
Metal clasp on a briefcase
Pushing up the handle on a door
Nespresso machine
Closing the car door at the beach with waves in the background
Opening a Safe
The cover of a spare tyre in the boot falling into place
A breeze blowing outside as someone central locks their car
A climbing top rope being dropped down a cliff and tightening
The central console of a car being closed
Closing a spectacle case.
A fan oven and closing the door
Putting a microphone down on a counter
Standalone fan on full blast
Elevator doors closing
Opening an air fryer
Cash machine releasing money
A Super Ser gas heater. The heat panels igniting
Chopping wood outside
Flushing a plane toilet
A condenser dryer working while someone closes the filter drawer
The button you press to get off the bus
Closing the blind on an aircraft window
Robotic hoover
Hand brake down on a running car
Dishwasher tablet compartment opening
Gas hob turning off
Opening and closing a car window on a wet & windy day
Some closing the lid on a vinyl player
Kicking a Rugby Ball
A suitcase falling onto a conveyor belt at Airport
The fuel cap closing on a car
Hand-held catapult
Baseball shooting from a ball machine
Bonnet release
Airport Ambience Sound
Dropping football on a AstroTurf pitch
Turntable on record player spinning and someone putting a record on the player
A fan oven door closing gently that last little it
A oven door opening and the fan sound and a jacket potato hitting off the door
A Microphone being dropped
Getting into a shower and closing the door
Blowing out a match or a lighter
Aero plane door
Car visor
Door to a chilling room in a hotel
Opening door of a tumble dryer and clothes falling out
Opening door of a washing machine
Knife hitting chopping board
Central Locking a car
A printer winding up to print and taking a page in
A washing machine drum changing direction during wash cycle
Flicking the anti-glare switch on your rear vision mirrors
Turning off an extractor fan over a cooker
Closing the door on a moving vehicle
Latch closing on the toilet door of an aero plane
Car driving over a speed bump
Raining outside, so you close your sliding patio door
The kickstand of PJ's motorcycle
Closing a car boot
Closing the detergent dispenser on a washing machine
Running over a cat's eye on the motorway
The sound of a pedal on a kick drum
A car's side mirror closing
A glovebox closing
An umbrella popping open
Car wash water hitting the roof while the side brushes knock the wing mirror closed
Closing a car door
Putting a carton of milk back in the fridge
Bowling ball returning
Doors shutting on the Dart
Pulling up the handle on a suitcase
Soft close draw closing
Saddle/seat closing over storage box of a moped
A Tupperware lid storing cereal being closed
Lid of a guitar case closing
Striking a match
Drawer on a washing machine closing
Wiper blade snapping back onto a windscreen
Badminton racket hitting a shuttlecock
Banging packet of spaghetti on the kitchen counter
Having a practice swing with a golf club
Using a long window brush on a tall building
Closing the door of a fridge/freezer
Closing a sliding door
Hitting a gold ball on a fairway with an 8 Iron
Seat belt being pulled and getting stuck
Window being closed with dryer on in the background
Doors on a bus closing
Ball being banged off a car window
Opening handle on a car door
Shower running while someone opens a cabinet
Filing cabinet door opening beside a window in an office
The second hand of a kitchen clock ticking
Closing a glove box in a car
Closing the lid of an air fryer
Someone getting into a car while it's raining
Dropping a wet towel into a laundry basket
An egg exploding in a microwave
Aero plane door closing
Hitting a rug or mat on a washing line
Dropping a bunch of laundry on the ground
A fan
Hitting tennis ball with a tennis racket
A front loading washing machine loaded and door closed
Throwing something in the Nova Studio bin
Turnip being dropped on a beanbag
Pressing down on a water fountain
Pressing the buttons on an electric fan
A press door opening and closing
Revolving door
Food tray closing on the back of a seat
Loading a dryer in a launderette
Bread dough dropped on a floury counter
Closing a car door
The timer on a tumble dryer clicking down
The door of an industrial dryer closing
A pair of runners in a washing machine with one bumping on the door
A car boot closing
A laundromat washing-machine door closing
A fridge/freezer door closing
An axe hitting piece of wood
Treadmill running and belt hitting off
Flicking wing mirrors on a motorbike
Steak dropping onto a counter
Getting out of the car in the lashing rain
PJ slamming his newspaper like Jake Stevens
Microwave turntable glass hitting off its door
Office chair moving across a wooded floor and stopping at a desk
Kicking an indoor football
Fridge door opening and closing
Sash window
Tumble dryer in motion
Landing gear of aero plane
Double vinyl being closed
Draw closing on a CD player
Automatic boot closing
Pressing cassette player STOP button after leader tape goes trough
A robot vacuum rolling from rug/carpet to hardwood floor
A bin out in the wind with lid lifting
Hitting an air hockey puck
Pulling a phone jack out of a speaker
Dropping a manuscript onto a table
Closing a shower door while the shower is on
A windscreen wiper going back to its original position
Sliding door on a van closing
Fixing the floor mat in a hall
Ham on a chopping block
Tap running while meat patty is being dropped into the sink
Archers arrow hitting a target
A cassette tape coming to an end and auto stopping
A vinyl record coming to the end of its side and needle staying in groove
Car boot closing
Running the tap into a basin and dropping a cup into it
Auto lock on a car door
Clasp on a lunchbox
Printer getting ready to print paper
Closing the door between carriages on a train
A chopping-board being dropped onto a tabletop with a tablecloth
Closing a window on a Dublin bus
Kicking a rugby ball off a tee
Teeing off a golf ball
Closing the hatch of a vacuum cleaner bag space
Dart hitting a dart board
Tipping out a bowl of dough onto the bench
Tumble dryer stopping with the anti-crease ball falling
Flapping the creases of laundry after the wash
Sliding door on a people carrier taxi
Dropping a lump of clay on a pottery wheel
Hitting a golf ball with a driver
Closing the window on a train or Dart
Pop up tents
A toilet cistern water shut off
Swatting a fly
A kettle coming to the boil and switching off
Sliding window on a car
A photocopier starting up
Marty closing the skylight on his camper
The sound of a cassette tape ending
Recoiling cord on vacuum cleaner
Washing and cutting an apple
Closing a bus window
On the beach slapping a beach ball
The gear shift of a Formula One car
Closing the boot of a German car
Opening an umbrella in the rain
Dropping a bar of soap in the shower
Hitting some meat a slap with a tenderizing mallet
Pushing the disabled button to open the door
Espresso going through the machine
Flipping a bottle of water and landing it on the table
Book being dropped on table or desk
Slice of bread on a worktop
Chest freezer closing
Playing Golf on a playstation or Wii
Baseball player making a catch in a mitt
Popcorn in the microwave
Closing a musician's travel case
A toaster popping
Picking a grape out of a punnet of grapes
Closing the lid on shower gel
Photocopier

A leaf blower with something stuck in it

Closing the Overhead locker on a plane

A motorised Velux window opening

An Arch Lever ring binder closing
A Metro train entering a tunnel
A sliothar being hit by a hurl
the air conditioner on in the car, and then the glove box closing
a radio being tuned in
a motorbike helmet being dropped onto the seat of a scooter
a domestic window being closed
sun visor being flipped up
A paint colour mixing machine in a paint shop
Nova Studio Door Closing
The needle/stylus hitting the first groove at the start of a record/vinyl
Changed gear in a car
Closing the flap on the front of a range hood
Using a fly swatter
A wet cloth falling in the shower
A magnet getting stuck to the fridge, with a tumble dryer in the background
The centre console armrest being closed
The nozzle clicking on the petrol pump
Closing the glove box while in a car wash
An car boot closing automatically
A back door of a Mercedes car closing
A dog's ball sling throwing a ball
Putting a bolt across a door
A slab of meat being put down on a table while standing in an industrial freezer
A leather phone case closing.
A game of Swingball, maybe side swiping the ball
A Smart Toilet lid closing
Hanging up an old phone. Placing receiver back in place
Opening a car boot from inside the car
Throwing a knife at or stabbing a chopping-board
Closing the drawer on a air-cooker
A guillotine
Kicking a football
Water bottle being changed in a water dispenser
Kicking a football into a goal
An automatic tennis ball machine
Lid of a wheelie bin dropping shut
Lid of a deep fat fryer shutting
Snow falling off a roof
Putting a stopper in a sink while the tap is slowly leaking
An electric kettle clicking as it boils
Taking a shot on the Tiger Woods PlayStation game
Putting a notepad down on a table
Throwing a big ball of BluTack at the wall
Dropping a ream of paper on a desk
Plugging a mic into a speaker
Retractable clothes line
Supermarket fridge door closing
Someone playing Swingball
Opening a shampoo bottle in a shower
Towel being dropped
Turntable turning with record being dropped on
Car's indicator self-cancelling
Pressing the emergency STOP button in a revolving door
Landing a drone
Inserting a ticket into a parking machine which then ejects it
Sitting in a car wash and closing the window
Closing a cutlery drawer
Closing a window on the DART
A tennis ball serving gun
A punchbag being unhooked and dropped to the floor
Car tyre going over a bump
Egg being broke into a hot pan
The end of vinyl record
Placing a bin on the ground
Lighting a gas burner
Lid of electric kettle closing
Fuel latch opened from inside the car
Taking teabag out of a cup and plopping it in the sink
The central locking system in a Honda CRV
A gas ring igniting
Checking the air pressure on a tyre
Central locking in the car going down
Jim dropping his man bag on the desk
Bringing the cord back into a Hoover and the click back in
Wing mirror on a car flipping open
Swinging a golf club in rough and the ball going through the air
Microphone on a stand falling on carpet
Pressing a guitar foot pedal
Motorbike visor closing
Dropping telephone books on the ground
Closing the petrol cap
The rear vision mirror
Break pedal on an electric car being pressed
Putting a baby's car window shade on and taking it off again
Using an old-fashioned Department store pneumatic change delivery system
Flicking a towel in a bathroom
A rotary toaster in a hotel and the toast sliding into the tray
Luas Window opening
A plastic bag blowing onto a car wing mirror and off again
Hitting 2 chestnuts together in a game of Conkers
Closing the oven door
Fridge/freezer door being shut
Throwing a wet sponge or cloth at a wall
Dropping wash basket full of clothes in front of a washer/dryer
Swinging a hurl
Security Shutter locking into place
Guillotine cutting bank notes
Bola
Plumping up a cushion
Flicking a towel in the shower
Throwing a lump of dough
Closing the seat compartment on a scooter
Dishwasher being opened mid cycle
The aircon working in a car with the door closing
Hitting a shuttlecock over a net
Producer Clint walking into a room and throwing a box of Quality Street onto a table
Dropping a bag of cement onto another bag of cement
Pulling down the window shade on a plane
Dropping a record onto a turntable
A bee keeper taking out or returning a honey tray to the hive
Stopping a microwave mid cook
A hoover sucking up a ball
A microphone with a spongey top being put down on a table
A wash basket being dropped on the floor
Tying an inflated balloon or flicking it
A Sony flip phone being closed
Closing a IT Comms cabinet
A car going over speed bumps
A plunger going into a toilet
Dropping a pillow
Taking a drink out of an open fridge or cooler and closing the door
Suitcase latch opening and closing.
Sun visor on the car
Opening the detergent drawer of a washing machine while it's running
Chopping down a Xmas tree with an axe
A double-glazed window being closed
Doors locking in a banks security lobby (When you're in-between the doors!)
Teeing off a golf shot on a pitch and putt mat
A paper coffee cup
Briefcase latches
Overhead storage bins on an airplane
Microphone picking up a dart on dartboard
Bag of cement dropped on conveyor belt
Airplane Toilet door shut and locked
Pizza Dough thrown onto a worktop
Lift doors closing
Tapping a microphone
A coffee travel cup with a sponge base being put down
A door knocker
Door opening automatically when wash cycle ends
A used teabag dropping onto a benchtop or draining-board
Throwing fruit into a blender
 Somebody closing down their laptop
A shampoo bottle being opened in the shower
An umbrella popping up
Taking the cap off shaving foam
Sandbag dropped on a wooden floor
CD player closing
Automatic tennis ball launcher
Filling a kettle, tap running still while closing the lid
Re-corking a bottle of wine
The pressure on a bottle of water
Opening a new pot of jam
Kicking a football
Sliding window on the bus
A dart hitting a dartboard
A launderette's tumble-dryer with the clothes hitting the door
A snow plough
Closing an outdoor bin
Throwing a mobile phone down on a bed
A cold store/freezer door closing
Punching a punching bag
Bingo ball coming out of the machine
Tape deck closing
Turkey on the kitchen counter
Pouring salt from a large drum
Throwing something at a window. Possibly a Snowball
Ball of dough on a worktop with a bread maker heating in the background
The door on an air vent closing
A fridge door closing
A sponge thing with a suction cup on the end being pulled off the wall with the shower running
Dropping an eraser into a desk-tidy
A turkey getting the chop
Activating the disk drive on a PC
Nespresso machine
Seatbelt clicking on aircraft
Hoover bag clicking in
Attic door
Remote control hitting a couch
A bungee cord springing back
A letter been taken out of a letterbox
Closing the bonnet of a car
Luas doors locking
A car door sliding shut
Flap on the letterbox closes after letter goes through
Changing room cubicle closing while showers are on
Touching microphone while fan on in the background
Lever arch file
Pressing the pedestrian button at traffic lights
Flicking through a catalogue
Lighting a gas hob
A keg hitting a sack in a pub cellar
Plugging in an electric car
Opening a tumble dyer, checking the clothes and closing the door
Money capsule going into the tube at supermarket checkout
Closing a vent with a shutter on it
Popcorn going off in a microwave
Sellotape being cut by serrated edge
Slapping a hand down on a table
Closing the lid of an air fryer
Extractor fan button
Closing a tub of ice cream after taking it out of the fridge
Electric toothbrush going back on the charger
A ring binder folder closing
A switch on a kettle going off
The lead on an old vacuum been retraced when you press the button
Hitting a golf ball with an iron not a driver
Chopping potatoes with the water boiling in the back ground
Using a pinball machine and pulling the spring loaded lever to operate
Taking the end off the Hoover
Wedge shot in golf
Teeing off at a driving range
Cigarette lighter popping out
Central heating coming on
Taking a letter out of a letter box
Slippery when wet floor sign
Throwing a banana on the table
Opening a carton of eggs
As shower door closing while the shower is on
Shower is running and you open the door
Throwing a dart at a dartboard
Gas connection
Someone hitting a tennis ball
Lid on a butter container
Snapping on a pair of yellow Marigolds
Dropping a yellow pages on the ground
Dropping a banana on a desk
Closing the oven door with the lights on in the background
Scania truck door closing
Tennis ball being hit by a racket
Opening and closing a banana lunchbox
Taxi person putting the lights on their car
Opening a carton of custard
Pulling the tab on a life jacket
Peeling a banana
The tray table on a Ryan Air flight being put up
Kicking a bag of sand
Blowing up a yellow balloon with a pump
Somone opening their parachute in the air
Opening the top of the banana
Carton of custard erupting in a microwave
Potato being peeled and dropped into a pot
Flipping the lid of a bottle of suntan lotion
Pulling a Post It note
Pulling a banana off a bunch
Closing the hatch on a submarine. Maybe a yellow one!
Bouncing a tennis ball
Door of a JCB closing on a building site
Closing the Yellow Pages
A traffic warden slapping a parking ticket on a windscreen
Wet floor sign picking It up and closing
Yellow Mellon been cut in half and taken apart
Someone closing a door on a fridge
Pulling Sellotape
Putting a parking ticket on your windsreen and snapping the wiper back
Yellow pool ball rolling across the table and into the pocket
Chopping cheese
Yellow pages book being closed
Taking a coronavirus sign off a door
Opening the container inside a kinder egg
Putting a wheel clamp on a car
A knob of butter on a knife, then put on toast
Yellow tape measure closing
Yellow scourer sponge run under the tap and dropped in the sink
Opening a jar of mustard
Stamping a yellow Covid passport
A pan of bread being dropped on a table
Car tyre going over a cats eye on a road
Turning on a table fan that cools you down so Coldplay and the song yellow comes into play
Closing the door on a fire stove
A Brennan's Bread van driver closing the van door
Getting into a yellow taxi and closing the door
Yellow snooker ball being hit
Dropping the Yellowpages on the table
Dublinbus door closing
A banana being struck with a golf club in the rain
Hatch on a yellow submarine being closed
Buttoning up a HI-VIZ jacket
Opening the CD case of a Coldplay album
Window at McDonald's drive thru shutting
Cutting into a lemon
Bow and arrow hitting the target in the middle
Closing the lid on a Lego storage box
Kicking a rugby ball
Opening a dishwasher that's working and slamming it shut again
Snapping on a pair of yellow gloves to wash the dishes
Stepping off an escalator
A running washing machine with clothes hitting off the door
Wet floor sign being put out or taken down
Cutting a block of cheddar cheese
Someone getting into a JCB truck and closing the door
Closing a double glazed window
Tub of Lemon ice cream being shut
Hitting a golf ball off a yellow tee
Lighting up a Super-Ser gas heater
Putting a medical sharp in to a sharps disposal box
Flicking the Yellow Pages with a thumb
Turning something in a fry pan
Yellow pool ball going into the pocket
Lid of yellow highlighter being removed
An electric car stopping at a pedestrian crossing
Yellow Pages being thrown onto a table
Dropping a lump of butter into a fry pan
Dropping a banana onto a table
Closing the overhead locker on a plane
Running a bath and dropping in a yellow rubber duck
Stepping off the top of an escalator
Closing a Dublin Bus window
Closing the lid of an ice-grit box
Dropping an egg on the floor
Hitting a fly with a yellow fly swat
Separating an egg yolk from white using the suction method
Pulling off a yellow rubber glove by a sink
Hitting the emergency stop button on an escalator
Cutting the top off a pineapple with a knife
Sticking a lemon magnet on a fridge
Yellow lever stopcock on an oil tank
Biting into a corn on the cob
Opening a jar of Mustard
A Click a Courier bike box lid (yellow) closing
Wet floor sign being clacked closed
A spoon hitting the top of a boiled egg
A tin of yellow paint being opened
Dropping or hitting a yellow builder's hardhat
A sun visor in a car going up and down
Yellow lid on a wheelie bin closing
Dropping a yellow rubber duck
Dropping a can of yellow corn on the tableyell
Tennis ball going around in a clothes dryer
Closing a car's sunroof
A New York taxi driver closing the partition between the front and back
A really fast canary hitting a wall
Picking up a landline telephone
Clicking in a safety belt
Opening a Kinder Surprise
Boiled egg slicer
Door closing on a New York Yellow Cab
Closing the door on a New York cab IN THE RAIN
Hitting a tennis ball
Buffing a floor and knocking over the cleaning in progress sign
Heating Weetabix in a microwave and opening the door
Chopping a banana beside a fryer
Chopping a yellow pepper in half
Chopping a block of cheese
A squeezy mustard bottle
Chopping a lemon on a chopping block
Juggling lemons, dropping one
Turning off the yellow gas mains at a home
The indicator of a car switching off
Opening the yellow capsule inside a Kinder surprise
Tearing the cellophane off the yellow chopping-board
Dropping the chopping-board on the counter
Deliberator door closing
The indicator of a car switching on
Dropping Post It notes on the table
Pulling out your dipstick
Lid on a squeezy lemon bottle
A life jacket being inflated
A pair of yellow kitchen gloves being dropped on a counter
A yellow paper punch putting holes in a page
A yellow ring binder being shut
Cutting through a block of marzipan
Garden hose being wound up again
Golf ball being hit out of a bunker
Throwing a knife through an orange flame and hitting a target
Closing a yellow glasses case
A red cap on a yellow lemon bottle of Fairy Liquid being closed
A game of Swingball
A rubber duck being dunked in a bath and poppin back up again
The Sun (Yep. As in, The sun. Burning in the sky. HOW we laughed)