It's the film everyone is calling Scotland's answer to "Derry Girls".
Directed by Michael Caton-Jones, "Our Ladies" follows a group of Scottish schoolgirls on a day trip to Edinburgh to perform in a choir competition, but they're more interested in hooking up, drinking and partying.
For these teens from a small town in the Scottish Highlands, it becomes a chance to escape their daily lives and run riot in the big city. With few expectations for their futures, Orla (Tallulah Greive), Finnoula (Abigail Lawrie), Manda (Sally Messham), Kay (Eve Austin), Chell (Rona Morison) and Kylah (Marli Siu) are determined to live for every moment in this raucous tale of love, life and true friendship.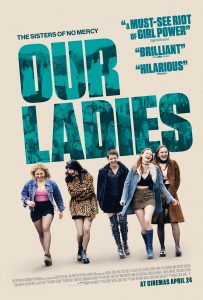 The Times' Kevin Maher said it features five of "the most compelling, neatly drawn and slightly terrifying female protagonists committed to film."
With a killer soundtrack, "Our Ladies" is a feel good movie that will have you both reminiscing about the 90's and laughing out loud.
The new coming-of-age story is having it's first showing at the Dublin International Film Festival in Cineworld this Friday 6th March at 8pm and will be somethign great to bring the gals to.
You can get your tickets to "Our Ladies" here or just by listening to The Colm & Lucy Breakfast Show you could win some!