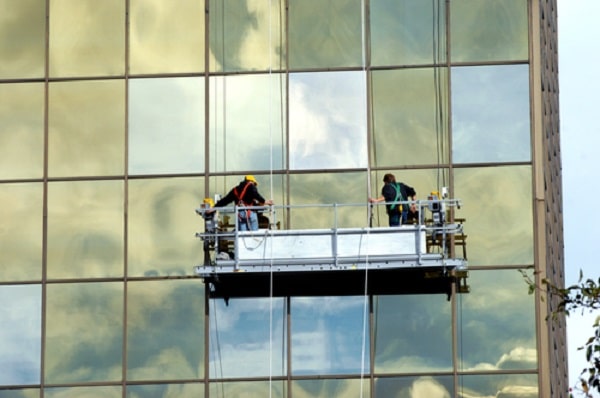 A scaffolding malfunction nearly cost the lives of two window washers over the weekend.
The two men had been washing windows on the 50th floor of 30 Hudson Yards, Manhattan on Saturday morning when their scaffolding failed.
During a 'controlled decent' of the 101-storey tall skyscraper, their scaffolding malfunctioned and came to a jolting stop at the 37th floor. The two men were flung from the platform and fell another two stories, before landing on a roof at the 35th floor.
According to reports, both men were immediately transported to Bellevue hospital to receive treatment. One suffered serious injuries while the other washer had only minor ones.
First responders arrived on the scene and found that both men were conscious. Firefighters were initially unable to reach the men because of the height of the building. With time ticking by and a fear of further accidents, they could not waste time waiting on a ladder so they cut a hole in a window on the 35th floor, bringing them to safety.
"It sounds like they're going to be all right," said an FDNY spokesperson. "But they're banged up."
The spokesperson explained that the injuries to both men were sustained on their fall from the roof, rather than the 13-story freefall.
"That would be two stories," the spokesperson said when asked about their injuries. "But that's substantial. That's enough of a fall."
The cause of the malfunctioning is still under investigation. When the fall happened, the scaffold was suspended from a crane erected over the building.
The 1,296-foot tall office building is New York's fourth-tallest skyscraper, with a well-known triangular observation deck on the 101st floor called "the Edge."
The deck is the second highest outdoor observation deck in the Western hemisphere, just 22 feet below Toronto's CN tower, standing at 1,100 feet.
It opened in 2019 and is home to a number of the world's leading companies, including Warner Media and Facebook.