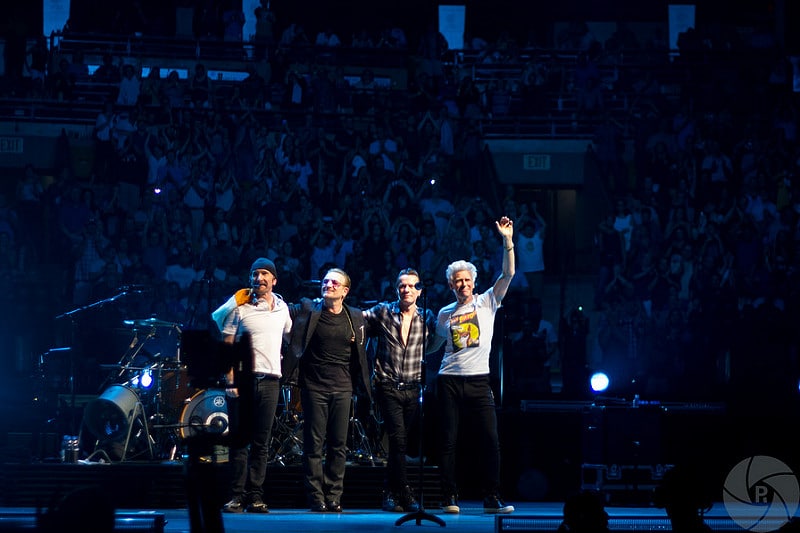 U2 took to Facebook last night for a live Q & A with fans to celebrate the 30th anniversary of The Joshua Tree. Fans had the unique opportunity of asking Adam, Bono, Edge and Larry anything about the eleven songs on the band's fifth studio album and the subsequent tour which saw them playing stadiums for the very first time.
It's no surprise that the topic of ticket touting arose.
Hundreds of NOVA listeners contacted the station when they were left fuming after thousands of U2 tickets turned up on resale websites within seconds of Croke Park selling out. Some selling for as much as €1,000.
In January, Nova teamed up with TD Noel Rock and launched a petition for the outlaw of ticket touting. Our 'Morning Glory' presenters personally delivered the petition to the Leinster House.
On Facebook last night Bono addressed the issue, saying they are against ticket touting but there's nothing they can really do about it.
"I think it's important for people to understand we do not profit from secondary ticket sales. We're working on it, it's really difficult", he continued, "Our fans know we are against this, but this is not something that we have any influence on. It's really tricky, that's all I can say on it."
The issue is not isolated to U2's gig alone. It mirrors what happened when Coldplay and Ed Sheeran tickets went on sale.
Ticketmaster, which also runs the re-sale site Seatwave, has defended its handling of the sale saying the Seatwave prices are not set by the company but by the person who is selling the tickets on.
"The thing about Seatwave is that it is a safe and secure market so tickets would be genuine. The ticket prices are set by the seller, which in this instance is not Ticketmaster, but that price may not necessarily be secured by the seller."
"Ticketmaster is just facilitating the sale."
On Tuesday January 31 a new Bill was officially introduced to the Dáil to ban the resale of tickets above face value and and we're hoping it gets through.
Radio NOVA broadcasts a diet of guitar-based music to Dublin, Kildare, Meath & Wicklow. The station is available on Facebook, Twitter and on it's website – www.nova.ie. It can be received on 100.3FM in the Greater Dublin area and can be received nationwide on its Smartphone apps and via the Irish Radio Player.ore updates as we hear them.
Photo Credit: Phil Romans