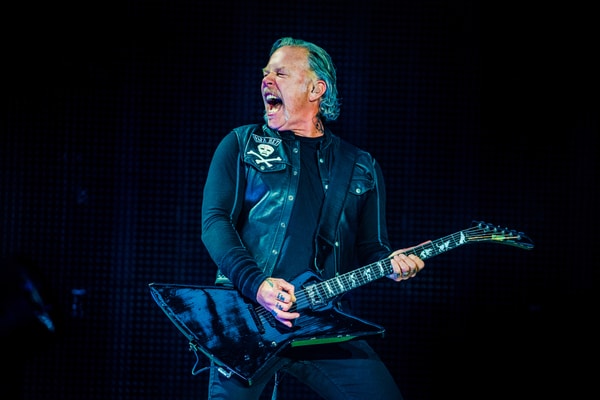 Joice M Figueiró, the woman who gave birth during a recent Metallica gig has revealed that she recieved a very kind message of congratulations from the band's frontman James Hetfield over the phone.
Metallica were performing at Brazil's Estádio Couto Perriara Stadium last weekend, as part of their tour of South America.
According to Joice M Figueiró, she gave birth to her baby son Luan, while the band were half way through their track 'Enter Sandman'. She was 39 weeks pregnant.
She also joked during an interview that she would name her child after Metallica drummer Lars Ulrich.
"I joked that his name would be James Ulrich" — a mash-up of Hetfield and drummer Lars Ulrich. "But really, since this name question has brought up great appeal and we haven't registered him, we're thinking of maybe adding a [middle] name and putting some homage in there", she said.
Ms Figueiró wrote on Instagram, "Luan Figueiró came into the world on 05/07/2022 at 23:15 shaking all the metal structures". 
"This is James"
Since then, Joice M Figuerió has announced that she has received a very pleasant phone call from Metallica frontman James Hetfield. She revealed that the phone call lasted for seven minutes overall.
Taking to Instagram, Ms Figueiró shared a photo of her receiving the call from Hetfield. Hetfield can be heard saying, "This is James from METALLICA. Congratulations, you guys". 
He added, "Oh my God. Hi". To which Joice responds. "I cry". 
"I have no more words", Ms Figueiró claimed.
On the experience of giving birth during a Metallica gig, she also added, "It was a mix of emotions. Since it wasn't planned, I was scared that the medical team wouldn't be ready. But there's also the feeling of being able to tell people that this happened because METALLICA is one of the bands we love the most".