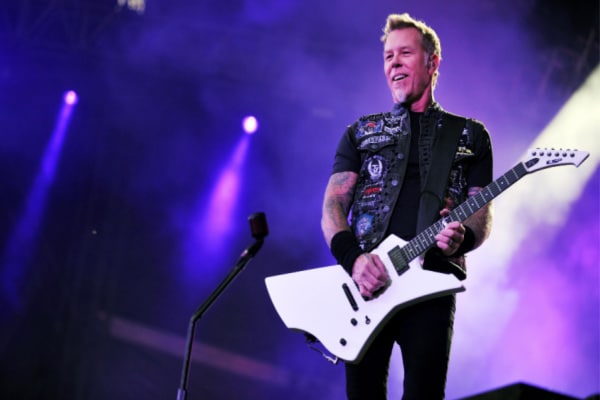 A woman who gave birth during a live Metallica show, has honoured the band by giving her child a very special middle name.
Back in May, Brazilian woman Joice Figueiró was 39 weeks pregnant when she began having contractions at the Metallica gig.
"I was trying to hold on a little bit, thinking: 'I need to see Metallica', Joice revealed in her recent interview.
She subsequently gave birth to her baby son during the band's show at the Estádio Couto Pereira stadium in Curitiba.
Her son Luan was born at 11-15pm that night, as her waters broke before she could make it to the outpatient maternity ward.
On top of this, the baby's mother also revealed that she was giving birth just as Metallica were performing their track, 'Enter Sandman'.
"why not something related to James?"
A few days later, Joice Figueiró also revealed that she received a very special phone called from Metallica frontman James Hetfield.
She said that Hetfield gave her a very special congralutory message over the phone.
Calling Hetfield "so kind", she revealed, "He asked if I was OK, if the baby was healthy".
"We told him the whole story".
Since then, Joice has now revealed that she decided to honour both Hetfield and Metallica by giving her child a very special middle name.
She revealed that she decided to give her child the Metallica inspired middle name, 'James'.
"We had already chosen the name Luan for the baby. But people started to ask: 'Why not something related to Metallica?'", she told The Guardian.
Joice also added, "We felt such a connection with James on the phone that we decided to make Luan's second name James – it just felt right. Now he won't be able to listen to any music but metal".
"He is a baby headbanger – his grandfather would have been proud".