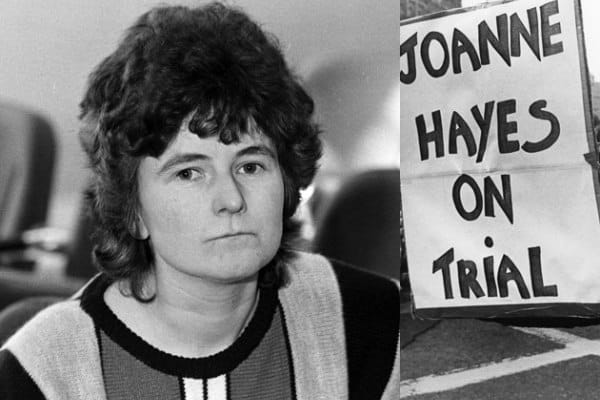 The State has formally apologised to Joanne Hayes for what was described in court as "the truly appalling hurt and stress" caused to her and her family.
The apology, which was read out in the High Court today, brings an end to proceedings aimed at vindicating her good name once and for all.
The statement was made in court and Ms Hayes and her family settled an action against the State over the events which became known as the 'Kerry babies case'.
Ms Hayes was wrongly charged with the murder of a baby found on a beach in Co Kerry in 1984.
Along with other members of her family, Joanne Hayes was questioned in May 1984 by gardaí following the discovery of a new born boy – called baby John – with multiple stab wounds on White Strand, near Cahersiveen, Co Kerry, on April 14th, 1984.
Around the same time baby John was discovered, Ms Hayes, from Abbeydorney – almost 80 km away from Cahirsiveen – had given birth to a baby, Shane, who was either still-born or died soon after birth and was buried on the family farm.
Despite the two babies having different blood groups, gardaí alleged they were twins.
In a statement, Joanne Hayes said she wanted to acknowledge all those who had supported the family over the last 36 years.
Tests carried out in 2018 using DNA technology concluded the baby found in Cahersiveen could not have been Ms Hayes'.
The Hayes family were not in court to hear the apology but their counsel Liam Reidy SC told Ms Justice Reynolds they intended no disrespect but did not want a "media circus".
Outside court after certain declarations were approved this afternoon, her solicitor Patrick Mann, addressed the media on her behalf…
She said: "I would particularly like to thank my friends who with their support and kindness gave us hope and strength through the darkest moments of this ordeal".
She thanked the people of Abbeydorney and "everyone throughout Ireland" who sent letters of support and prayers to the family.
"Throughout the years the kindness and sense of community we have experienced has helped us through the most challenging moments of the period."
She added: "It is my sincere hope and belief that after 36 years the suffering and stress of this ordeal is now finally behind us."
In the statement read through her solicitor, she asked that the family's privacy be respected and "that we can return to our lives within our local community in peace."