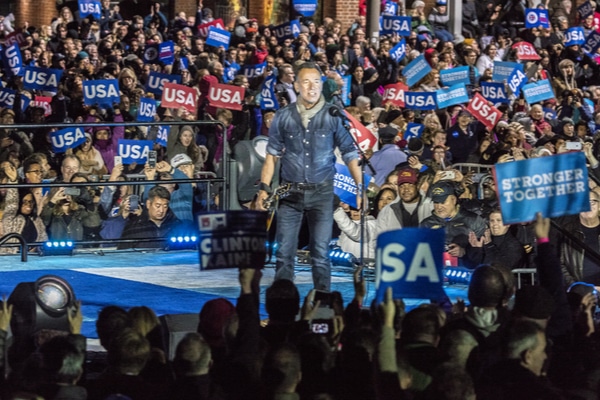 Veteran folksinger, Bruce Springsteen will be recognized with the 2021 Woody Guthrie Prize for his work continuing Woody Guthrie's legacy. The accolade honours the late American folk legend and "recognises artists across media who have used their talents to speak for those without a platform".
The Woody Guthrie Centre will present the award during a livestream event which will broadcast for Woody Guthrie Centre members. With over 20 studio albums, Springsteen receives the award for using his storytelling ability to write songs "that connect with people who faced the hard times and celebrated the good times".
The Woody website reads, "Springsteen's music provides a soundtrack of resilience, strength, heart, and joy despite or even in spite of the struggles thrown our way. Drawing from his experiences growing up in New Jersey, Springsteen's songs have connected on a universal level with fans worldwide."
In a statement released by Springsteen, the Boss said he is "honoured" to receive the 2021 Woody Guthrie Prize. "Woody wrote some of the greatest songs about America's struggle to live up its ideals in convincing fashion. He is one of my most important influences and inspirations."
Head of the Woody Guthrie Centre in Tulsa, Deana McCloud also commented on Springsteen finally receiving the honorary award. "As an observer of the human condition and a reporter about the plight of common people, Bruce Springsteen is a true child of Woody Guthrie. The Woody Guthrie Centre is proud to present Bruce with this well-deserved recognition for his lifetime of speaking for the disenfranchised and inspiring generations to find the power of their own voices."
Since its launch in 2014, the Woody Guthrie Prize has been awarded to Pete Seger, Mavis Staples, Kris Kristofferson, Norman Lear, John Mellencamp, Chuck D, and Joan Baez, making Springsteen only the eighth to receive the award.
Springsteen previously performed with previous Woody recipient Pete Seeger at Barack Obama's 2008 presidential inauguration, where the pair put their own spin on the late singer-songwriter's folk classic This Land is Your Land. Woody Guthrie was an American singer-songwriter, and one of the most significant figures in early American folk music.
Woody, who focused his work on themes of American socialism and anti-fascism, died in 1967 at the age of 55. The legendary folksinger inspired many of the greats, making a huge impression on one of the greatest songwriters of all time, Bob Dylan. Another great, American, folksinger and songwriter, Bruce Springsteen, 71, will be presented with the prize during a virtual ceremony on May 13th.