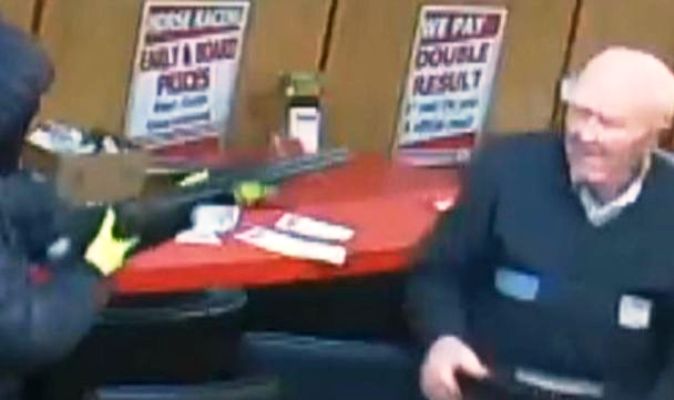 83-year-old Denis O'Connor has been hailed as a hero both at home and abroad thanks to his heroics on Saturday during an armed raid at a bookies in Cork.
The great-grandfather fought off raiders armed with hammers and what looked like a gun who entered the Bar One Racing bookmakers in Glanmire.
Dramatic CCTV footage from the incident shows Mr O'Connor taking on one of the men and then kicking him on the rear as the balaclava-wearing raider fled the shop.
The story has been making headlines in Ireland and today it has been picked up by news outlets online in the UK, Russia and even Australia.
Sky News went with the line: "Great-grandfather, 83, fights off armed robbers at bookies in Ireland".
Mr O'Connor ignored the raider armed with a shotgun and went to help Mr Murphy.
"You can either run and hide or take a stand and I took a stand," "I just couldn't not help".
Elsewhere across the Irish Sea, UK newspapers Metro and the Daily Star. The Metro led with:
"Great-grandfather, 84, fights off three armed robbers kicking one up the backside".
The Daily Star said:
"Hero pensioner, 84, dishes out INSTANT karma after gun-wielding thugs storm bookies".
The latter also said that Mr O'Connor should be given a medal for his efforts.
Further afield, the news has spread to Russia and Australia, with Russia Today and the site punters.com both featuring the story.
RT said:
"'Hard as nails!': Heroic 84yo Irish great-grandad fights off 'shotgun-wielding' raiders".