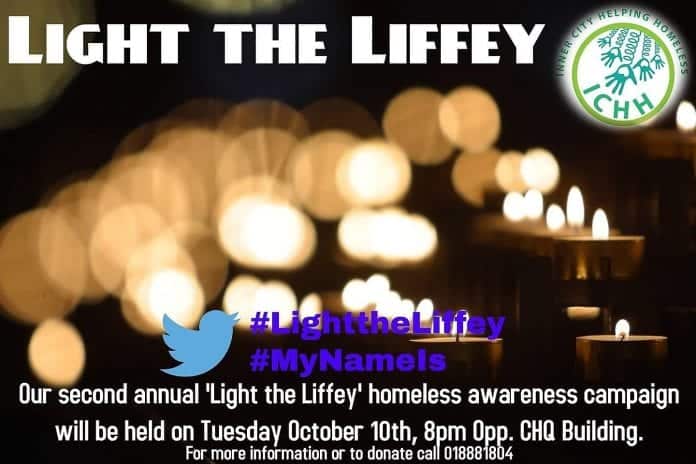 Today is World Homeless Day. And to mark this special day, Inner City Helping Homeless are holding their annual "Light The Liffey" event this evening, opposite the CHQ building on the North Quays. It kicks off at 8pm.
We have a homelessness crisis in Ireland, which has been widely publicised in the last year, but with no sign of improving. There has tragically been a number of deaths among the homeless recently. The ICHH are helping families with small children, within the homeless system on a daily basis.
Most recent figures have shown that over 3,000 children are currently homeless in Ireland. Living in hotels and b&b's, emergency accomodation etc.
The outreach volunteers of ICHH are also helping the record numbers of rough sleepers in doorways, around the city centre. As Winter is fast approaching, there are major concerns for the welfare of Ireland's homeless.
Today's event on the Liffey has been organised as part of the #MyNameIs campaign, which was set up to end child homelessness in this country.
Speaking yesterday about the Light The Liffey event ICHH CEO Anthony Flynn said:
"Tomorrow night sees our annual Light the Liffey event where we plan to light over 3,000 candles, one for every homeless child in Ireland, on the North Quays. As tomorrow is World Homeless Day and Budget 2018 in Ireland we couldn't think of a more appropriate day to raise awareness for the 3,048 homeless children in Ireland. Homelessness is an epidemic in Ireland that needs to be addressed from top to bottom. More social housing is required that is clear however more immediate solutions are also required with so many buildings and land sitting empty across the country. We have already seen a number of deaths this year of people experiencing homelessness and I fear there will be more to come. Tomorrow's event is designed so people can come along and light a candle and show their support to end the homeless crisis. I would invite anyone that is experiencing homelessness or anyone that wants to show their support for those trapped in the never ending cycle of homelessness to come along on the night. We will be providing hot food and drinks and a number of guest speakers will be speaking on the night. The event is on at the North Quays just opposite the CHQ building from 8pm to 10pm so please come along and show your support on the night and stand in solidarity with everyone that is homeless across the globe."
Guest speakers on the night will include:
ICHH CEO – Anthony Flynn
Tracy McGinnis – Mother of 2 young sons, Brendan who is 13 and severely disabled and Declan who is 9. Tracy acts as carer for her son and is under threat of homelessness and has been an advocate for others in the same situation.
There will be hot bbq food provided, along with drinks for everyone who attends.