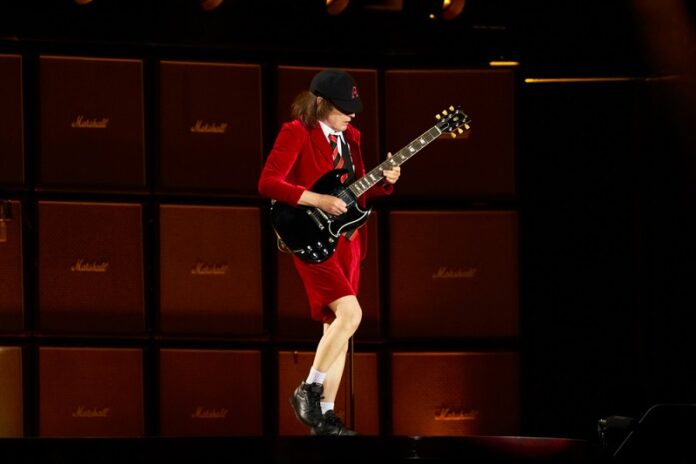 For most of us, it might be difficult to imagine attending live concerts at the moment! However, cast your minds back to seeing AC/DC live in front of 50,000 at the Aviva. Only to discover lead guitarist Angus Young is not donning his iconic school uniform stagewear. No chance!
A major part of AC/DC's live show is Angus Young's iconic school uniform. As he said so himself recently, not wearing it "would be like going to see a Spider-Man movie and going, 'Wait a minute! Where's his suit?' You pay money to see Superman or anybody, and you want to see the guy in the suit. Or Batman. He's the ultimate". 
The rocker made these comments when speaking to Goldmine.
Young also said he has always loved donning that cap and shorts for live shows with the band.
He said, "Some people look great in civilian gear. Like when I was younger and saw Jimi Hendrix, and went, 'Wow!' It's the image; that's the first thing when you're younger". 
As for AC/DC as a band, their album "Power Up" has been a number one record globally.
Check out their track "Realize" here.
Angus Young
Angus Young also gave us an insight into former lead singer Bon Scott. He recently revealed that Bon Scott hailed future AC/DC frontman Brian Johnson as the best singer he had seen in a "long time".
Check out more on that and more here. Including how a visit to the bathroom inspired the creation of one of the band's most iconic tracks.
Angus Young also had to deny rumours that Bon Scott helped to write another iconic track from the band, "Back In Black". Read Nova's report on that here.
Angus Young also denied rumours that Guns N'Roses' Axl Rose recorded music with the band, when he stepped in fro Brian Johnson in 2016. More here.