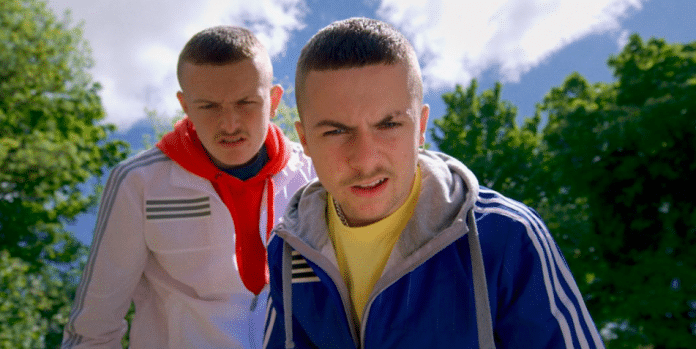 The Young Offenders kicked off it's first series on RTÉ2 last Thursday night, and it has since been announced that the series has been approved for a second series by BBC Three.
Shane Allen who is the controller of Comedy Commissioning, said the following about the series: 'It's vital we back emerging talent to the hilt and believe in this show so much that a second series is an absolute must. The rare confluence of dazzling performances across this show and in Peter's writing the strong sense of place and character makes it the quintessential BBC Three comedy. By turns raucous by turns heart-breaking and consistently hilarious.'
The creator of The Young Offenders, Peter Foott, said this: 'The response already to the show has been phenomenal, myself and the whole team have been blown away by it. To have BBC Three commission a second series so quickly is a dream come true, their support for the project has been unwavering from the start. This level of commitment is incredibly reassuring, and we're keen to continue telling stories involving these characters. We're very grateful to the BBC for allowing us to do so.'
TODAY IS THE DAY!!! Irish audiences can see our new TV show @9.30pm on @RTE2 – we really hope ye like it! pic.twitter.com/xeLbydsqGX

— The Young Offenders (@YoungOffenders_) February 8, 2018
Hilary Rose who plays Conor's mother, 'Mairead McSweeney' recently spoke to Hotpress about the series.
'When we made the film, Peter and I agreed that, 'Oh, wouldn't it be great to explore these characters, who are all so vibrant, further. There was always this notion of it working as a TV series.' We discussed it with our fabulous agents in London, who took it to the BBC and straight away they said, 'Yeah.' We literally got an email from the Commissioning Editor saying, 'Write, shoot and deliver as fast as you can.' We didn't even do a pilot, which is rare.'
'We love the characters and have stuck 100% to the spirit of the original. If you look at Scandinavian dramas like The Killing and The Bridge, they didn't have to water it down to be massively successful in the UK. I think it's the same with comedy; if a show's funny enough, people will put a bit of effort into getting past the accents and whatever.'
Did you tune in to the boys last week?