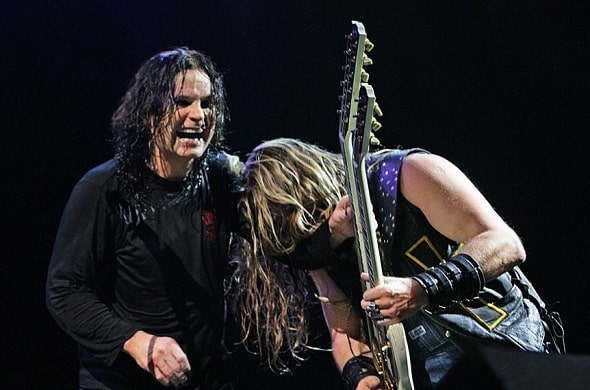 Ozzy Osbourne's guitarist Zakk Wylde has posted a message of encouragement after hearing Ozzy's emotional revelation about his Parkinson's disease.
Ozzy and his wife Sharon spoke about the diagnosis during an interview on the hit television show Good Morning America last Tuesday Jan. 21st.
According to Antimusic, following the day of the disclosure, Zakk took to social media, offering his public support.
He tweeted, "BIG BL LOVE & THANKS To EVERYBODY Out There Sending The BOSS Your POSITIVE ENERGY & PRAYERS OF STRENGTH!!! OZ – YOU'RE THE GREATEST!!! YOU ARE LOVED MORE THAN YOU WILL EVER KNOW!!! XO tBLSt SDMF @OzzyOsbourne"
BIG BL LOVE & THANKS To EVERYBODY Out There Sending The BOSS Your POSITIVE ENERGY & PRAYERS OF STRENGTH!!! OZ – YOU'RE THE GREATEST!!! YOU ARE LOVED MORE THAN YOU WILL EVER KNOW!!! XO tBLSt SDMF @OzzyOsbourne • vid: Miriam Turq pic.twitter.com/YOiCEXJYtB

— Zakk Wylde (@ZakkWyldeBLS) January 23, 2020