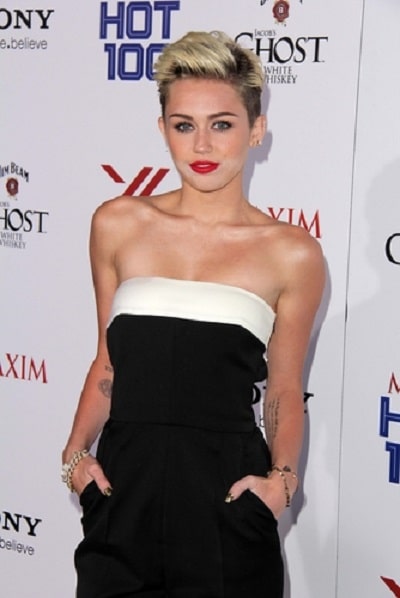 Describing it as "one of the finest covers" the have ever heard, the Cranberries take to Twitter to heap praise on the 27-year-old. The Irish rock band posted a tweet, earlier today, to praise Cyrus for her cover of their massive hit, Zombie.
The band seem to have enjoyed the performance and said it would impress late frontwoman, Dolores O'Riordan.
"We were delighted to hear of Miley Cyrus' cover of Zombie at the Whisky a Go Go #SOSFEST in LA at the weekend. It's one of the finest covers of the song that we've heard. We think Dolores would be very impressed!"
In a statement on Twitter, surviving members Fergal Lawler, Noel and Mike Hogan, thanked their fans and paid tribute to their late friend, Dolores.
Drummer Fergal Lawler wrote: "We are so delighted with the news that Zombie has over 1 Billion views on YouTube. We are sure Dolores has a big, proud smile on her face too. Thank you so much to all our fans around the world for supporting us over so many years."
Cyrus went viral when she performed the 1993 hit at Whisky A Go Go, in Los Angeles, for the virtual #SaveOurStages festival. This movement is fundraising to preserve grassroots music venues in the US, affected by the coronavirus pandemic. Miley also covered The Cure's classic 'Boys Don't Cry' and performed her recent single, Midnight Sky.
Foo Fighters played out an acoustic set, which was streamed live from LA's iconic The Troubadour venue. The Lumineers, Rise Against and The Roots are some other names involved in the three-day festival.
Zombie came out in September, 1994 and was the first single from the band's second studio album, 'No Need to Argue'. In April 2020, the song became the first song by an Irish band to surpass one billion views on YouTube. In April 2020, it became the first song by an Irish band to surpass one billion views on YouTube. At that time, Zombie had been streamed 472 million times on Spotify and has sold 778,942 copies in United Kingdom.
Watch Miley perform Zombie in the video below.