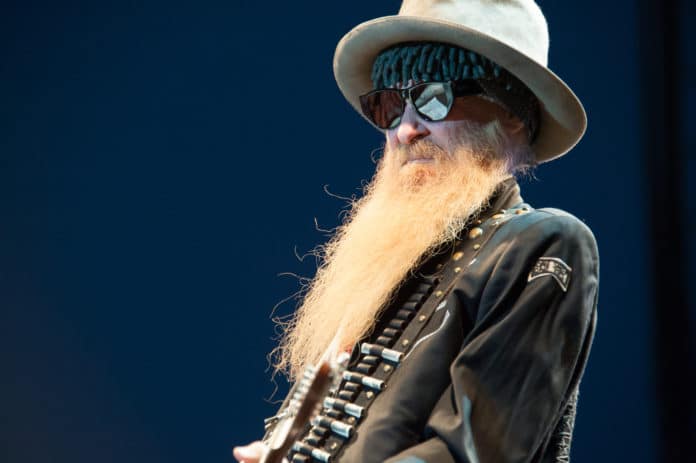 ZZ Top's bassist for over 50 years, the great Dusty Hill, has died in his sleep on July 27th at age 72.
Hill's cause of death is unknown, but on July 21st the band posted that he was "on a short detour back to Texas, to address a hip issue."
The band canceled last night's (July 28th) show in Simpsonville, South Carolina, and stated that per Dusty Hill's wishes they will carry on with his tech Elwood Francis assuming bass duties.
Surviving members Billy F. Gibbons and Frank Beard issued a statement mourning their friend and bandmate: "We are saddened by the news today that our Compadre, Dusty Hill, has passed away in his sleep at home in Houston, Texas. We, along with legions of ZZ Top fans around the world, will miss your steadfast presence, your good nature, and enduring commitment to providing that monumental bottom to the 'Top.' We will forever be connected to that 'Blues Shuffle in C.' You will be missed greatly, amigo."
WATCH ZZ Top at Dusty Hill's final show on July 16th, 2021 performing "Gimme All Your Lovin'" live in Manchester, Iowa below
Dusty Hill was born on May 19, 1949, in Dallas, Texas. He and Frank Beard moved to Houston in 1969 where they teamed up with Billy F. Gibbons in his newly-formed ZZ Top. Although Gibbons was primarily the band's lead singer, Hill took the lead on the group's 1975 Top 20 classic, "Tush."
John Fogerty said, "We are devastated to hear about Dusty's passing. We were so blessed to share the stage with the great Dusty and ZZ Top many times, and if that wasn't Rock and Roll heaven, I don't know what is. The show we did together just last week would be his last. So heartbreaking."
"WOW! Dusty Hill. What an icon. ZZ Top's bassist forever. So unique. Always a gentleman from the days of us opening for them through the recent days of them opening for us. I don't know what to say but 'Thank you' and 'Rest however you damn well choose!'" Paul Stanley said.
And Ozzy Osbourne remembered, "Rest In Peace Dusty Hill of ZZ Top. My thoughts go out to Billy f Gibbons and Frank Beard and all the ZZ Top fans around the world"