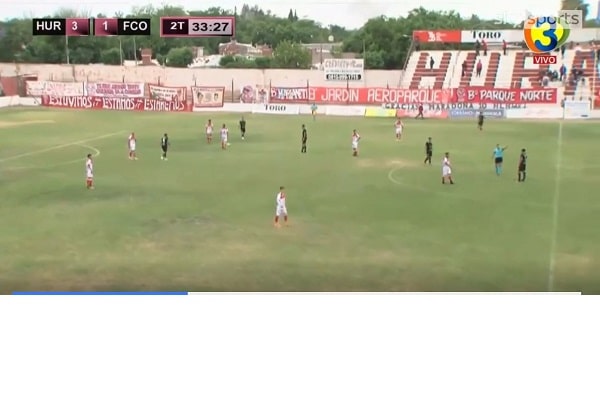 The head coach of a football team in Argentina was shot in the shoulder, as Huracan Las Heras fans began fighting with each other during a match between them and Ferro over the weekend.
The Ferro manager Mauricio Romero suffered a gun shot wound to his shoulder, as players fled the pitch and hid behind walls.
Video footage also emerged of both sets of players from Ferro and Huran hiding for cover after they heard gun shots.
The match was subsequently abandoned with Huracan leading 3-1 at the time.
The head coach of a third-tier Argentine football team was shot and players fled the pitch as Huracan Las Heras fans fought among themselves during a match.

— Sky Sports News (@SkySportsNews) November 1, 2021
"out of danger" 
Romero's club have since confirmed that their coach had been taken to hospital.
"Romero is doing well and out of danger", the club tweeted. "After leaving the stadium he underwent tests in a local hospital and is now giving a statement to police". 
Huracan also stated this the conduct of the fans was "ruining" their club.
In a statement posted to their Facebook page, they wrote, "For years families have been chased from grounds". May all those that harm the club stay away so that the real fans can return".
Following news of this horrific incident during the match, viewers who were unsurprisingly shocked and dismayed, expressed such views online.
"Such a weird country", one viewer wrote.
Another tweeted, "This is madness we are witnessing".  
"Terrible", commented another viewer via Facebook.
Other incidents
This comes after Sky Sports had reported that during a football match in Bulgaria back in March, the referee was chased by officals and players into a car park, causing the game to be abandoned after 21 minutes.
After the video was posted online, one fan wrote, "Ban the club and ban the players for life..they should be an example to others".
Another commented, "This team should be expelled from ever playing football again".
While another added, "how could they behave like that, very indiscipline".
Check out this footage here. 
In other sports news, Bristol Rovers manager, Joey Barton recently apologised for using the term "holocaust" after his team's defeat to Newport County in League 2.