New government forecasts today say GDP will fall by more than 10% this year with unemployment to peak at 22% with a warning that 220,000 jobs will be lost.
There will be a recovery in 2021 with a 5.5% increase in employment – but the economy will not return to where it was at the start of this year until 2022.
The predictions are based on restrictions lasting for three months – and GDP could fall by as much as 15% if they last until the end of the year.
Minister Paschal Donohoe says the response here to the economic crisis that has developed from Covid-19 has been 'swift and forceful'. He also says a national recovery plan will be published to 'chart a course out of this recession'
Mr Donohoe today published the Government's Stability Programme Update 2020 (SPU), which sets out a macroeconomic and fiscal scenario for 2020 and 2021 and which now incorporates the impact of the Covid-19 pandemic.
"The Irish economic landscape, in common with elsewhere, has been turned on its head in recent weeks. The necessary restrictions to limit the transmission of the Covid-19 virus have resulted in a severe recession and unprecedented levels of unemployment," Paschal Donohoe said.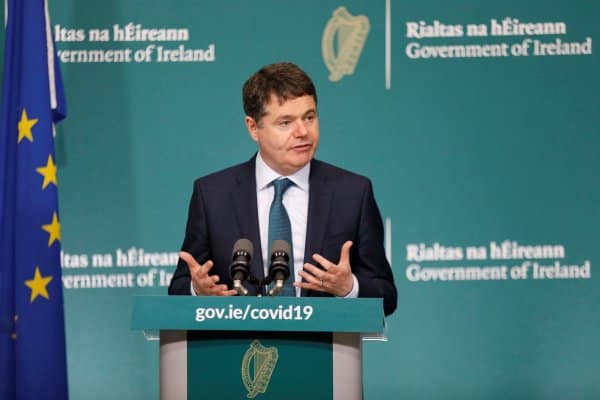 -Stability Programme Update 2020-
Economic landscape fundamentally changed in Ireland and across the globe
Irish GDP to fall by 10.5 per cent this year
Labour market bears the brunt of the economic shock, going from full employment to a peak unemployment rate of 22 per cent in the current quarter
Recovery over the second half rests on successful virus containment
General government deficit of €23 billion (7.4 per cent of GDP) projected this year
Modified Domestic Demand, perhaps the best indicator of domestic economic conditions, is projected to fall by 15 per cent this year
Recovery in second half of year to gain momentum next year with economic growth of 6 per cent
Employment to grow in 2021, with numbers out of work to fall below 10 per cent
Debt-to-GDP ratio projected to rise to 69 per cent
Difficult journey ahead but Ireland faces it from position of strength