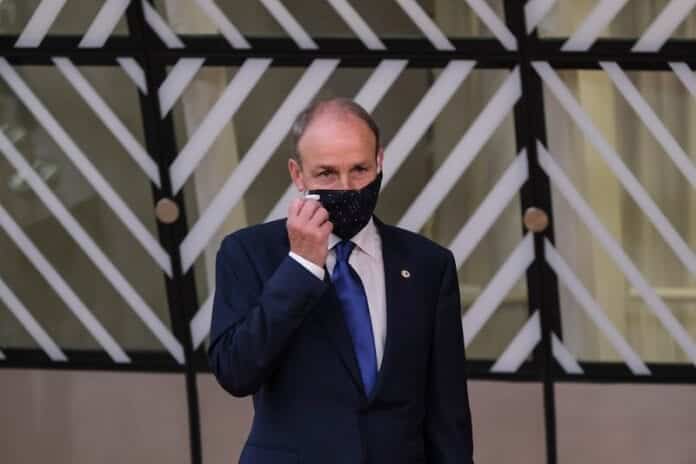 Taoiseach Micheál Martin has said that travel and other restrictions could ease for the first time on April 5.
At his parliamentary party meeting last night, he indicated that the 5km rule, restrictions on outdoor activity, sport and construction could be eased when the next review is set to take place.
These measures will be examined with NPHET and if the response from NPHET is favourable, it could see restrictions eased at the beginning of April and not at the end of the month, as the Taoiseach had previously suggested.
He received heavy criticism for telling The Irish Mirror in an interview that restrictions may not be eased until the end of April.
The new living with Covid plan was announced earlier this week and many were disappointed that some restrictions were not lifted.
The news was first reported in The Irish Times and it was also revealed that many in Fianna Fáil were upset at the vaccination rollout across the country.
Mayo TD Dara Calleary said the rollout of the vaccination programme in Mayo had been "all over the place" with some practices receiving no supplies while others received far too much for their needs.
These concerns were echoed by other TDs from Dublin, Kildare and Limerick.
Minister for Health Stephen Donnelly told members at the meeting that he will be discussing these hold ups with the HSE with the aim of rectifying them as soon as possible.
At the Fine Gael parliamentary meeting, many members told Leo Varadkar that the public are losing faith in the Government as frustrations over their communication intensify.
Many Fine Gael politicians said that more and more Gardaí are receiving abuse from members of the public about Covid restrictions.
Former Minister for Housing, Eoghan Murphy said that people are breaking the rules with different "intent" in recent weeks with many people having an attitude of "Government be damned."
Tánaiste Leo Varadkar told the meeting recent criticisms of the Government's communications around Covid-19 were "justified" and would be taken on board.
This news comes as recent poll figures indicate that the Government are losing support from the public. Both Fianna Fáil and Fine Gael are down three and five points respectively, while the other party in Government, the Greens, are up two points.
The Taoiseach is up three points to 42% approval while the Tánaiste is down 13 points to 52%. Green Party leader Eamon Ryan is up eight points to 35%.
Many will be hoping to see restrictions eased in April. For that to happen, cases will have to continue to fall and the vaccination rollout will have to meet its targets.
According to Ireland's Covid-19 Data Hub, a total of 359,616 have been administered as of Monday this week.
These include 226,291 first doses of the vaccine while 133,325 people have received their second jab of the vaccine.
Just a total of 5,645 vaccines were administered on Monday which means the HSE will have a lot of work to do if they are to meet their target of 100,000 vaccines this week.