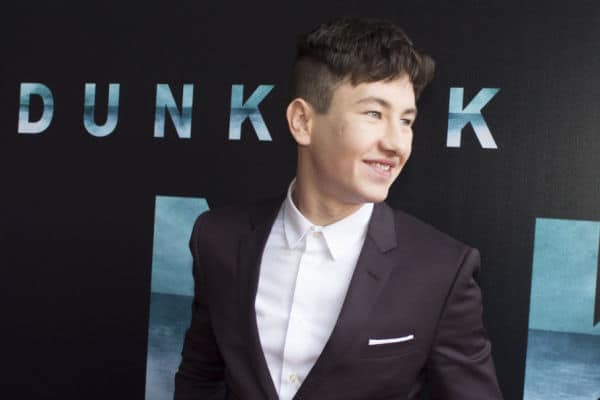 In light of his recent Oscars nomination, Barry Keoghan has been hailed as an "inspiration" after old footage from a previous interview where he speaks about his tough upbringing resurfaced.
Footage of a Late Late Show interview from 2018 shows Barry Keoghan speaking about his difficult upbringing, which saw him move around 13 foster homes between the ages of 5 and 12, after his mother died of a heroin overdose.
Eventually, the actor and his brother Eric moved in with their nanny Patricia, aunt Lorraine, and older sister Gemma in the inner city area of Summerhill.
Keoghan eventually discovered his knack for acting, after being casted in a school play at O'Connell School on Dublin's North Richmond Street, called My Babysitter Is An Alien.
"In first year, I did a play, My Babysitter Is An Alien. That was the first time I ever acted and I just loved the feeling of it. I was 12 or 13 and O' Connell's has a mad big stage so the production used to be massive, with lights and sound… I had that feeling of 'this is really good — I like this", Keoghan said in that Late Late Show chat.
Having caught a big break playing cat killer Wayne on popular Irish crime series Love/Hate, he joined the Factory acting school afterwards.
Keoghan gained major star status after earning roles in The Killing Of A Sacred Door, along with box office hit Dunkirk.
Alongside Colin Farrell who he also worked with The Killing Of A Sacred Door, Keoghan earned an Oscar nomination for his role in the Martin McDonagh directed Banshees of Inisherin this week.
"didn't know the affects"
Despite this superstar status, Barry Keoghan would be the first to admit that his journey was far from plain sailing.
Opening up about his mother's death, Keoghan had this to say back in 2018.
"It was a new thing and people didn't know the effects", he said. "The drugs hit the area and it affected all the families and she was one of them that got caught". 
"I was living with my Nanny at that stage. I was 12. She was very young. She was 31. I have great memories of her and I'm very proud of her".
This tragic loss saw Keoghan and his brother moved between multiple foster homes. They eventually settled down with relatives.
"We went into foster care and the families we went to were good to us. We went to a few of them. They kept us together, which was great", he explained.
"Every family was good to us. As a kid, you don't know what's happening; you get attached and then boom – let's move over here".
"It's a weird one. It's only when you get older, you can look back and get a bit of perspective on it", he added. "So, I don't have a hometown," he joked before adding: "I'm only messing, I do. Summerhill".
From foster care to Summerhill to Love Hate, to possibly landing an Oscar, it is fair to say that Barry Keoghan's passage to this stage has been far from easy, but as our man at the movies Clint Drieberg said, "Barry Keoghan is an Irish superhero!".