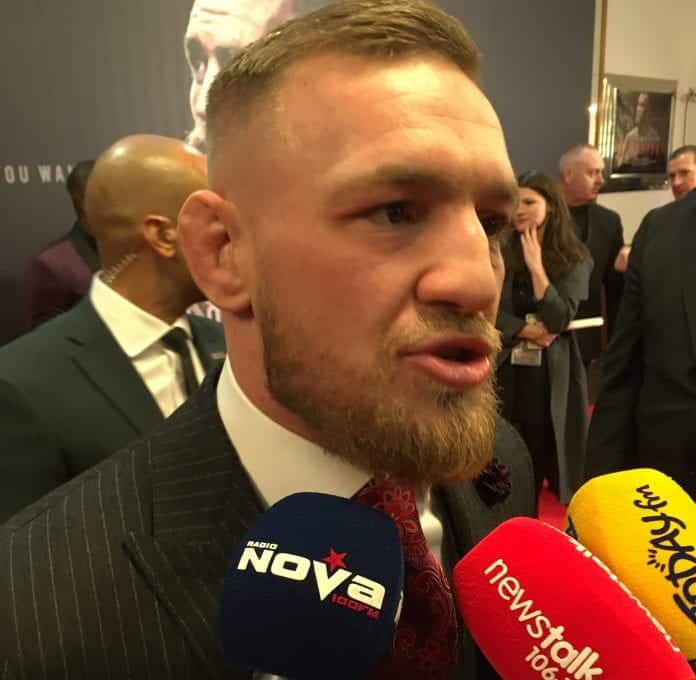 Conor McGregor, his girlfriend Dee Devlin and son stepped out for the world premiere of CONOR McGREGOR: NOTORIOUS at the Savoy Cinema.
Our Man at the Movies CLINT DRIEBERG was there to chat with Conor and see who else showed up.
Filmed over the course of 4 years CONOR McGREGOR: NOTORIOUS –  is a gripping access-all-areas account of McGregor's personal and professional journey from claiming benefits and living in his mum's spare room with his girlfriend to claiming multiple championship belts and 7-figure pay packets.
It's a mix of fight footage along with a behind-the-scenes look at a sporting icon and his meteoric rise. Even meeting his idol Arnold Schwarzenegger
The fact that Conor thought so much of himself to have a film crew follow him round for 4 years is admirable and it is really warts and all from winning the UFC championship belt in just 13 seconds to the not so successful Las Vegas bout against Floyd Mayweather.
While I found the fight scenes horrendous, Notorious punches well above it's weight in terms of a documentary that gives a great insight into arguably one of Ireland's greatest fighters. CONOR McGREGOR: NOTORIOUS gets ★★★★
Directed by Gavin Fitzgerald and produced by Jamie D'Alton for Motive Films CONOR McGREGOR: NOTORIOUS in cinemas now, DVD AND DIGITAL DOWNLOAD from November 20th.