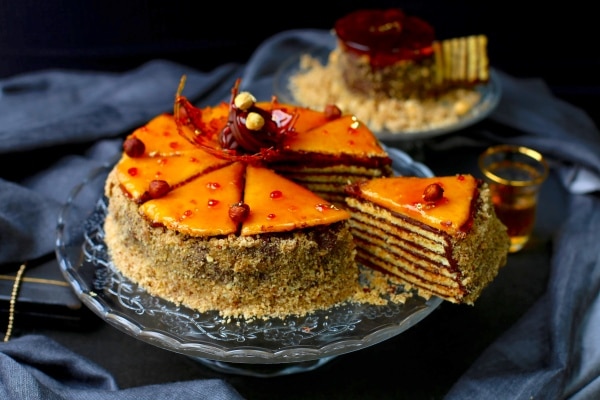 The overall winner in a nationwide search by banana importer Fyffes to find a new mouth-watering dessert with banana as its key ingredient is Roisin Gallagher.
A student from Drumcondra, Roisin was amongst a large group who accepted the challenge of Donal Skehan to design a desert that could become a winner on tables around Ireland and beyond.
When not working on her Masters Degree in food innovation and product design with TU Dublin and having worked in Temple Street Children's Hospital for years, Roisin admits to a passion for food and cooking from a young age.
Roisin says. "As long as I can remember, I have always enjoyed baking, particularly with my mam as a young child. In more recent times, since lockdown began, my passion for food has now expanded into food photography as well."
In creating her prize-winning entry, a 'Banana and Caramel Layer Cake', which won the 'Best Ingredients' category, Roisin drew inspiration from a recipe she discovered on a trip to Hungary some years ago. "At its core are very thin layers of banana sponge, infused with banana, chocolate and cream ganache, all topped off with caramel and hazelnut praline," Roisin explains.
Devised by Fyffes to mark the annual National Banana Day held recently, the invitation to 'design a dessert' was in-line with a similar event which took place last year when the challenge was to capture the national lockdown-relieving popularity of home cooking by asking Ireland's bake-at-home families to come forward with new and innovative recipes for banana bread.
Complementing what he called 'the exceptional level of skill' revealed by all who took part in the Competition, Donal Skehan said: "the success that Roisin has achieved reflects the dedication and devotion she puts into her baking and the obvious enjoyment she gets from it".
Other category winners in the competition are :11 year-old Clíodhna Mulkearns from Letterkenny (Best Junior Baker under 12 years); 15 year-old Claire Griffin from Skibbereen, West Cork (Best Junior Baker aged 13 – 17); Brianna Turner from Ennistymon, Co. Clare (Best Gluten-Free); Alline Isense Dalpiaz from Killorglin, Co. Kerry (Best Styling) and Kirsten Meehan from Stoneybatter, Dublin (Best Vegan).