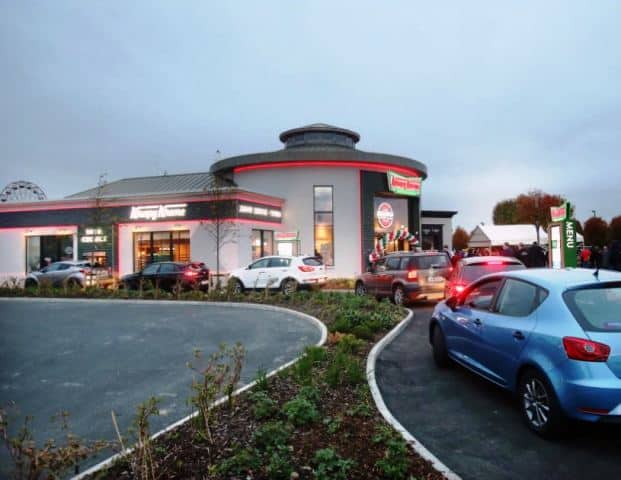 Krispy Kreme drive-thru in Blanchardstown is set to return to 24 hours for the first time since noise and traffic chaos last year.
The contentious drive-thru is set to expand its operation after it was shut just seven days into the store's mega grand opening last year.

Blanchardstown was thrown into disarray when the much loved US doughnut chain opened its premier Irish outlet. That was thanks to the unbearable levels of traffic and noise for the locals.
Reports of queues tailing right out of the center and down the road and selfish motorists also sounding their horns all night as they lined up for a treat, drove people crazy.
The store opened on 26th September but by October 3rd everyone had had enough and the decision to close the drive-thru at 11.30pm every night was made.
Now, according to reports, it seems that drivers will be able to spin in for some doughnuts beginning June 24th.
Dublin Live states that a staff notice reads: "24-hour drive-thru will be recommencing from Monday 24th June. Night shift will be 10 pm – 6.30 am although this is to be confirmed."
It's believed that the company are now hopeful the doughnut buzz has abated enough and it will be a much smoother and quieter operation!
Having listened to suggestions and input from a wide variety of people including employees, centre management, and local residents, Krispy Kreme has made the required updates, and there is now an on-site presence of senior management at all times.
The drive-thru has been designed to make queuing time as short as possible with peak drive-thru queue time estimated to be approximately 15 minutes. Krispy Kreme now has a designated phone number for local residents to call during the initial period of the extended opening hours.
Krispy Kreme will actively monitor the queue at the drive-thru and any customers engaging in disruptive behaviour will be refused service and ejected from the queue. Senior management will be on shift at all times to assist with this.