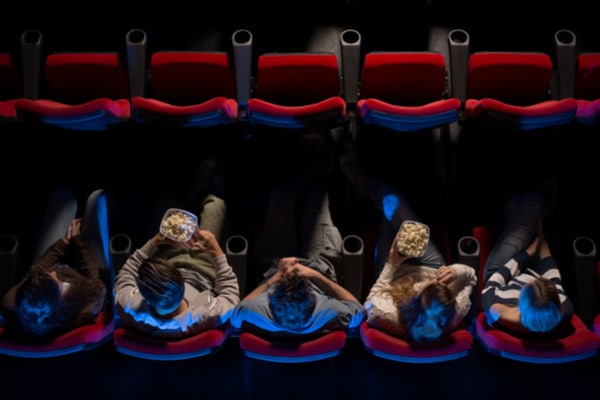 The IFI Horrorthon is back from October 25th to 29th with it's usual mix of bloody madness and mayhem!
The event opened with the sold out Irish premiere of the eagerly anticipated "Overlord", produced by J.J. Abrams.
"Overlord" tells a supernatural story of a team of American paratroopers who drop into Nazi-occupied France to carry out a mission that's crucial to the invasion's success. While attempting to carry out their orders the soldiers uncover a mysterious lab and enemies unlike anything they or the world has ever seen.
With Kurt Russell's son Wyatt leading the cast, "Overlord" has all the chemistry of a great war epic  mixed with a full on monster film making it a thoroughly entertaining and frightening new kind of hybrid horror.
The festival will also feature the Irish premiere of Luca Guadagnino's hotly-anticipated remake of Dario Argento's "Suspiria" on Sunday 28th. The movie stars Dakota Johnson, Mia Goth, Chloë Grace Moretz and Tilda Swinton.
There is even a horror musical on Saturday night – possibly the feelgood film of the year! "Anna and the Apocalypse" is a zombie musical comedy that sees a group of school students slashing and singing their way through hordes of the undead.
Tickets are selling fast across a number of screenings including "Anna and the Apocalypse", "Nightmare Cinema", "The Devil's Doorway", "One Cut of the Dead", and "Await Further Instructions".
The slate of special guests includes Mick Garris, John Connolly, Sir Christopher Frayling, Aislinn Clarke, Paul Bushe and Brian O'Neill, along with Bernhard Pucher, director of "Ravers", and Nic Crum, producer of "Anna and the Apocalypse".
Individual tickets for Horrorthon films are on sale now in person at the IFI Box Office, by phone on 01-6793477, or online at www.ifi.ie/horrorthon.
Multiple film deals are available priced at €45 for 5 films, or €80 for 10 films, while a range of passes ranging from one- to five-day passes are also on sale.
FULL FESTIVAL SCHEDULE
Thursday, October 25th
19.00 Overlord
21.15 What Keeps You Alive
23.10 Boar
23.15 All The Creatures Were Stirring
23.15 Camp Cold Brook
Friday, October 26th
13.00 The Cleaning Lady
14.50 Framed
16.30 Knuckleball
18.20 The Devil's Doorway + Q&A
20.20 Nightmare Cinema + Q&A
23.00 Double Bill: Critters 2 / The Fly II + guest
23.10 Double Bill: The Axiom / Living Space
23.20 Double Bill: Road to Hell / The Tokoloshe
Saturday, October 27th
13.00 Horror Express + guest
15.00 Wolfman's Got Nards
17.00 Lifechanger
18.50 Secret Santa + guests
20.45 Anna and the Apocalypse
22.50 Book of Monsters + guests
23.00 Lady Frankenstein
23.10 Lust
Sunday, October 28th
13.00 Sir Christopher Frayling – On Frankenstein + Frankenstein and the Monster From Hell
16.00 St. Agatha
18.05 Surprise Film
20.20 Suspiria
23.00 The Dark
23.10 Killers Within + guest
23.20 Sleepwalkers + guest
Monday, October 29th
12.00 Short Film Showcase
14.00 Ravers
15.45 Videoman
17.40 Piercing
19.20 Await Further Instructions
21.10 One Cut Of The Dead