An investigation is continuing into a hit and run in Dublin yesterday that's left a teenager in hospital.
A 15 year old boy was struck by a car near Blanchardstown Shopping centre at around 4.40pm.
The youth was left lying on the ground and was attended to by emergency services. The incident happened in a busy area and its believed the youth was walking with another man at the time.
The injured teen was taken to Temple Street Children's Hospital with leg injuries.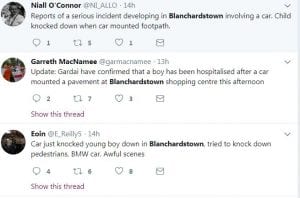 Anyone with information that may help Gardai with their investigations are being urged to contact their local station.
Image: Twitter thread
Featured Image Credit: Wikipedia