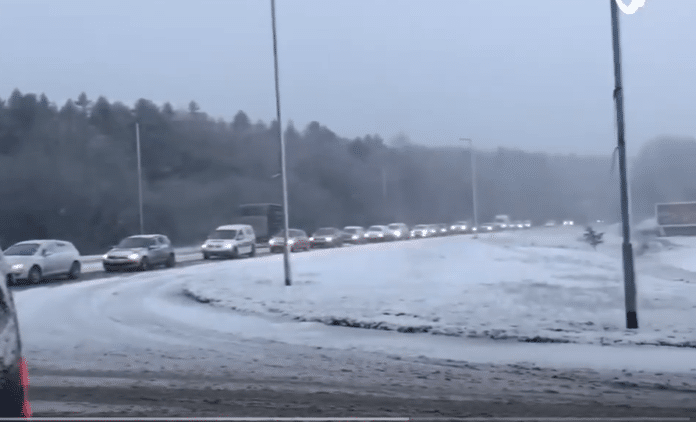 Met Éireann has warned that snow is set to cover Ireland, due to the Sudden Stratospheric Warning. This Stratospheric warning caused the infamous "Beast From The East" in 2018.
There is "potential for wintry percipitation" in areas by the Irish sea next week, according to the National Forcaster.
Their monthly forecast said the air is to feel colder towards the end of next week. Their most accurate forecast only gives predictions up until Sunday.
This cold weather could arrive by January 19. Places along the east coast such as Dublin and other surrounding areas are set to get the worst of it.
Donegal Weather Channel have said it is too early to predict both how heavy and when the snowfall will arrive.
Met Éireann Report:
This is how the weather for week ahead is looking, according to Met Eireann.
Today: "Cloudy and misty today with outbreaks of rain and drizzle, mainly during the early morning and late afternoon with drier spells in between. A milder day with highest temperatures of 9 to 11 degrees, in moderate to fresh southwesterly winds".
Met Éireann added, "Continuing cloudy and misty with outbreaks of rain and drizzle. More persistent and occasionally heavy rain will develop towards morning. Lowest temperatures of around 8 or 9 degrees, occurring late in the night when winds veer northwesterly".
Tomorrow: "Rain will gradually clear eastwards tomorrow morning and by the afternoon it will be dry with sunny spells. Highest afternoon temperatures of 7 or 8 degrees in a light to moderate northwesterly breeze".
"Dry and cold with clear spells countrywide at first but cloud will thicken in the west overnight. Lowest temperatures of -1 to +3 degrees, so frost will return to some places. Mist and fog patches possible too, as winds fall light".
Friday: "It will be largely cloudy with rain in the west during the morning, extending to most areas in the afternoon and evening. Afternoon temperatures will range between 5 degrees in the northeast to 10 degrees in the southwest. Southerly winds will be generally light to moderate, but will become fresh near coasts in the west".
Met Éireann added, "Friday night will be wet and breezy with widespread and occasionally heavy rain. It will be mild in most places with overnight temperatures of 7 to 11 degrees. There will be moderate to fresh southerly winds, stronger near coasts".