Metallica's new album, S&M2, is available Friday August 28th!
S&M2 was recorded during Metallica's two shows with the San Francisco Symphony Orchestra at the city's Chase Centre in September 2019 – two nights which celebrated the 20th anniversary of the original S&M album.
Metallica previously shared a trailer for S&M2, along with videos for Nothing Else Matters and All Within My Hands and you can watch them by clicking here.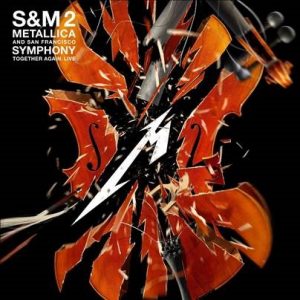 To celebrate the release of S&M2 on Radio Nova at 10pm on the day S&M2 hits shops, Marty Miller will present a very special edition of FRIDAY NIGHT LIVE featuring tracks from the recording and chatting with the one and only bassist from the band: Robert Trujillo.
And just by listening in to this special show, not only will you get to hear a great gig you could win a custom-made Metallica S&M2 violin!
To win this collectors item be sure to tune in at 10pm on Friday August 28th to Nova and answer this question:
Which part of S&M2 really resonated with rob, even though he had nothing to do with the results?
To enter the draw simply click here and tell us the answer and why you think you deserve to win. If you're lucky to win, we will be in touch!
S&M2 will be available in a staggering array of formats, ranging from a digital album on all leading streaming outlets, to 4LP vinyl, 2CD, DVD and Blu-ray versions, to a limited edition color vinyl 4LP + 2CD + Blu-ray Deluxe Box featuring sheet music, guitar picks, poster and more, all the way up to a Metallica.com exclusive Super Deluxe Box, limited to 500 copies, each featuring actual sheet music used by the Symphony during the shows and hand-signed by all four band members (in addition to including everything in the Deluxe Box).
Check out the video below showing Trujillo unboxing the upcoming S&M2 box set. Rather than film it at Metallica HQ or in his home, he instead decided to take the album down to the beach and unpack it on the hood of his car. And after showing off the contents, Trujillo then hit the waves for a spot of surfing.
The original S&M concerts were performed by Metallica and San Francisco Symphony and conducted by the late Michael Kamen in spring of 1999 at the Berkeley Community Theatre.
Metallica's first collaboration with San Francisco Symphony was documented by the Grammy-winning live album S&M and this new release will feature the first live performances of these arrangements in 20 years, plus the first-ever Metallica and San Francisco Symphony renditions of songs written and released since the original concert, with new orchestral charts by Bruce Coughlin.
The sold out shows were rapturously received by the 40,000 fans who traveled from nearly 70 countries, as well as the media: Rolling Stone raved "the group proved that anything was possible," while Variety noted an atmosphere "buzzing with excitement," and Consequence of Sound hailed it "a true celebration of Metallica and their musical prowess."