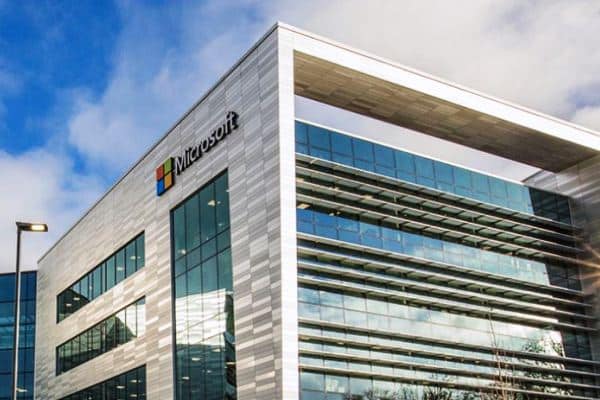 Microsoft is to create 200 new jobs at its Leopardstown campus. The majority of roles will be created across its engineering team where it's looking to hire 100 people.
They'll support the development of new and emerging technology such as artificial intelligence and machine learning.
The company is also recruiting 50 people to work in Digital Sales while also creating 50 roles across its graduate programme, sales and in Microsoft's data centre.
When the vacancies are filled it will bring the total numbers employed by Microsoft in Ireland to 2,200.
Microsoft Ireland managing director Cathriona Hallahan said:
"Our engineering team is at the centre of this work, developing and deploying solutions fuelled by new technologies that are helping to support opportunities and solve challenges" for its customers.

"From the creation of new cloud services that enable flexible working for employees and the adoption of machine learning to automated translation and the harnessing of data to provide personalised products; Microsoft engineers in Dublin are developing exciting innovations that have global impact."
We are delighted to announce this morning the creation of 200 highly skilled jobs across our business here in Ireland. Find out how to apply here: https://t.co/7f3NP403zk@MSEurope #MicrosoftLifeIreland pic.twitter.com/bpjJfHtnq2

— Microsoft Ireland (@Microsoftirl) September 17, 2018
Our MD @CathriH was joined today by some of our highly skilled engineers and Minister @josephamadigan to announce the expansion of our team here at #OneMicrosoftPlace
Apply today: https://t.co/xYD97ME4PD@MSEurope #MicrosoftLifeIreland pic.twitter.com/XpwG9Wrzow

— Microsoft Ireland (@Microsoftirl) September 17, 2018
Expansion of our engineering team in Dublin by 100 new recruits will drive #innovation and accelerated adoption of new technologies such as AI for customers globally.
Read more at: https://t.co/fsaULD7n3k@MSEurope #MicrosoftLifeIreland pic.twitter.com/F7amnfDIUI

— Microsoft Ireland (@Microsoftirl) September 17, 2018
We are also seeking new additions to our EMEA Digital Sales, Data Centre, Sales subsidiary teams and our graduate and intern programme at #OneMicrosoftPlace.
Learn more at: https://t.co/QuutOF5RDC#MicrosoftLifeIreland @MSEurope pic.twitter.com/zmmCJL06QV

— Microsoft Ireland (@Microsoftirl) September 17, 2018