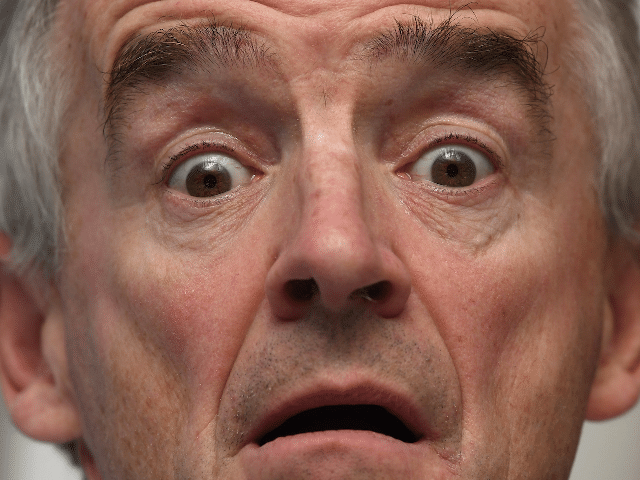 The budget airline Ryanair says that up to 1,500 jobs are at risk. The company says it's because of the risks of a no deal brexit and the Boeing 737 Max planes being grounded.
In a video sent to workers, Ryanair's chief executive Michael O'Leary outlines plans to cut the number of staff and planes.
He says they currently have 900 pilots and cabin crew that aren't needed. – and that 600 will also need to be laid off by next summer.
This comes after Ryanair announced on Monday a fall in profits of 21%.  The grounding of the Boeing 737 Max after two fatal crashes is also having a significant impact.
We don't know how many of the cuts will affect Irish workers but a final decision is expected by the end of next month.
The Irish Airline Pilots Association says it's in discussions with Ryanair to find out more.
In a video message, Mr O'Leary told staff that they have an excess of more than 500 pilots and about 400 flight attendants, and that it would need around 600 fewer people in those categories in a year's time
"We will need about 600 less pilots and cabin crew for summer 2020,"On top of this bad news, we already have a surplus of 500 pilots and some 400 cabin crew because resignations have dried up to effectively zero since the start of 2019.
The increased likelihood of a no-deal Brexit in October also means that some cuts were "simply unavoidable" added Mr O'Leary.
"I'm sorry to advise you that this means that we have to cut our aircraft numbers and our staffing, not just for summer 2020, but also in winter 2019," he said. "This will result in some base cuts, some base closures, and I'm very sorry to say, some job losses this winter for pilots and cabin crew."
"Over the next couple of weeks we will be doing our very best to minimise job losses, but some are simply unavoidable at this time."