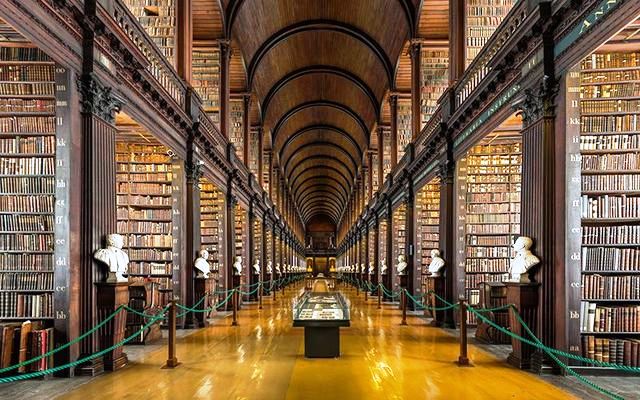 The iconic Book of Kells was enjoyed by its one millionth visitor today for 2018!
It breaks new ground for the famed 3rd level's old library marking the first time a million visitors have visited the exhibition in a single year.
American Cassie Clemans from Oregon passed the milestone visiting the exhibition today with her husband Andy. The Book of Kells has seen an increase in visitors of 50% in the last four years alone.
This year figures have increased even further after the royal visit of Prince Harry and Meghan Markle on July 11, driving a busier than expected summer.
Clemans stated:
"I am thrilled to be the one millionth visitor today to The Book of Kells Exhibition, and to see first-hand one of the greatest treasures of medieval Europe."
Trinity's Librarian and College Archivist Helen Shenton announced that the Library intends to rotate additional important manuscripts from its collection to enhance the exhibition.
Shenton added….
"the continuing fascination with the Book of Kells is a reminder that people from all countries draw inspiration from Ireland's past".
Visitors to the Book of Kells from the US are the largest international group of visitors annually, and make up 36% of the total visitor figures.
Increasing American visitors have contributed to an overall €1.7 billion in exchequer revenue for the Irish economy generated by overseas visitors in 2018.
The second largest group to visit the exhibition are domestic Irish tourists who make up 12% of the figures and tourists from countries such as the UK, Germany, Italy and France combined account for 27% of visitor figures.
Trinity's Chief Operating Officer Geraldine Ruane outlined that funds from ticket sales……
"go directly to supporting the University, including the maintenance of its historic campus and most importantly the overall academic mission of teaching and research".