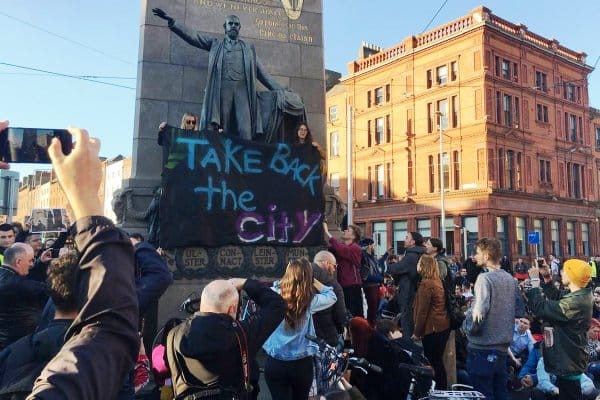 Housing activists are staging another protest in the north inner city this evening. They say they won't be intimated and will continue to occupy vacant and derelict buildings.
It comes after men in balaclavas forcibly removed people from a property on North Frederick Street last night.
Masked gardaí from the Public Order Unit also gathered in front of the property while the eviction was being carried out, with five people arrested during demonstrations against the eviction.
This evening, protesters again gathered at North Frederick Street – before moving on to stage a sit-down protest at Parnell Square and O'Connell Street.
The group Take Back Our City says people should take to the streets like they did during the water protests, the marriage referendum and repeal the 8th.
Spokesperson Eoin wants people to start taking action.
"Obviously there's a focus here on Dublin, but this is a crisis that's escalating around the country.

"One of our aims with this was to encourage communities and people in towns and villages and cities all around Ireland to look at the action we've taken over the last month, and take that kind of action themselves."
Shame! Shame! Shame on you! #TakeBackTheCity pic.twitter.com/epf23ZzrDR

— Take Back The City – Dublin (@TBTCDublin) September 12, 2018
#TakeBackTheCity pic.twitter.com/kF3OPgpids

— Take Back The City – Dublin (@TBTCDublin) September 12, 2018