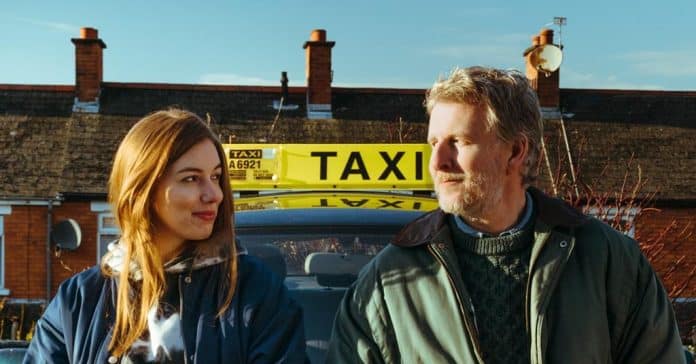 Would you like to listen to the article instead of reading it?
BALLYWALTER is a bitter-sweet comedy-drama set in Belfast, starring Seána Kerslake in a critically acclaimed, IFTA-nominated performance, and comedian Patrick Kielty in his first dramatic role.
It is a life affirming story about the unexpected connections that can change the course of our lives.
In the film Eileen (Seána Kerslake) is a caustic, unrepentant University drop-out whose dreams of a successful life in London have fallen by the wayside. Back at home with her mum, she makes ends meet by working as an unlicensed driver in her ex-boyfriend's minicab. Shane (Patrick Kielty) has exiled himself in Ballywalter following the break-up of his marriage, but now he's trying to get his life back on track by enrolling in a stand-up comedy course. When Shane calls a taxi to get him to his classes, Eileen answers and a surprising connection is made. As the two spend time together shuttling back and forth, a beautiful friendship develops, leading both to a moment of realisation. Shane reintegrates; Eileen makes peace with herself and who she really is. Finally, she can stop running and just drive.
BALLYWALTER marks British Sri Lankan director Prasanna Puwanarajah's directorial feature film debut. He felt a particular connection to the screenplay and characters for BALLYWALTER created by Belfast writer Stacey Gregg (Here Before), "There's something about the three-dimensional humaneness of her characters colliding with a freewheeling sense of humour and beautiful, delicate pathos that struck a particular harmony with me when we started working together over 10 years ago. As soon as I came to Northern Ireland, there was something I recognised in the way the people lived with their history. I connected with the rhythms and the humour in a way that surprised me initially and that later on I completely fell into. It felt like a recognisable and familiar place to me."
Dublin-born actress Seána Kerslake is known for her role in Sharon Horgan's multi-award winning comedy series Bad Sisters, and for lead performances in The Hole In the Ground and the comedy-drama A Date For Mad Mary for which she won the coveted Breakthrough Artist Award at the 2016 Dublin Film Critics Circle Awards. Screen International named Seána a Star of Tomorrow in 2017. Her other credits include Neil Jordan's Marlowe, My Salinger Year alongside Sigourney Weaver, the second series of Amazon's hit show Modern Love and the first two series of acclaimed drama Smother for which her performance was IFTA nominated.
Born in County Down, Patrick Kielty began his stand-up career as the host of Northern Ireland's first comedy club The Empire Laughs Back in pre-ceasefire Belfast. An award-winning stand-up, his TV credits include Last Chance Lottery for Channel 4 and Patrick Kielty Almost Live for BBC 1. His BAFTA nominated documentary My Dad, The Peace Deal and Me, which explored his tragic family backstory and followed him back to Northern Ireland to see how successful the Good Friday Agreement had been 20 years later, saw him named UK documentary host of the year at the 2018 Grierson Awards. His film Patrick Kielty: 100 Years of Union also won an RTS award for best presenter. Recently Patrick has become the new host of RTÉ'S The Late Late Show.
BALLYWALTER is produced by James Bierman (Genius) and Nik Bower (Selma) and co-produced by Alan Maher and John Wallace. It is an Empire Street Productions and Riverstone Pictures production, in co-production with Cowtown Pictures, and is financed by the BFI Film Fund, Fís Éireann/Screen Ireland, Northern Ireland Screen and Salmira Productions.