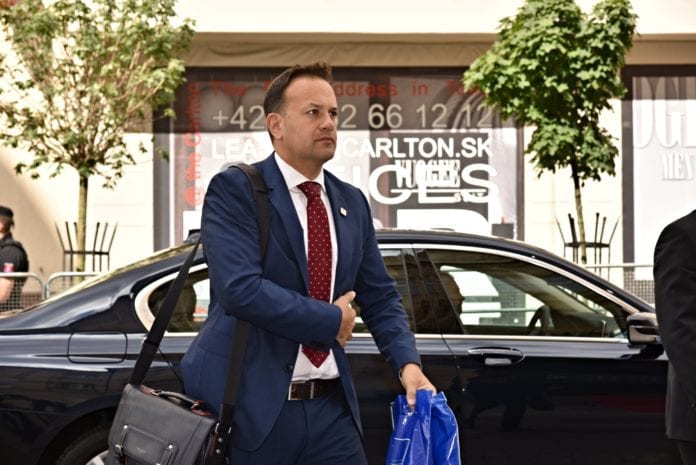 The stage was set, the TD's gathered and it was the big day for Leo Varadker. After yesterdays's resignation by Enda Kenny as Taoiseach, Leo Varadker has officially been voted in by Dail Eireann as Ireland's latest Taosieach.
Supporting him in the Gallery today were his parents and his Partner, along with some extended family members.
Mr Varadkar was nominated by Enda Kenny and seconded by Dublin Rathdown TD Josepha Madigan. She described Varadker as "courageous".
After his nomination, there floor went to the leaders of the opposition parties and speakers for the independents. There was the standard platitudes and grievances given, as happens when a new Taoiseach is being voted in. There also was an off topic back and forth between Brendan Howling and Michael Lowery over remarks made by Howling in relation to Lowery.
Mr Varadkar will later travel to Áras an Uachtaráin to receive his seal of office before returning to the Dáil to name his Cabinet.
He received 57 Dáil votes after he was nominated for the State's most important political office.
Those votes, combined with Fianna Fáil abstaining, see him elected the 14th head of government and Ireland's youngest Taoiseach.
His first task is to select the ministers he wants to put centre stage in the minority Government.
Leo Varadkar has already appointed Simon Coveney, who challenged him for the leadership of Fine Gael, the deputy leader of the party.
He said on the nomination of Coveney "I am really delighted to appoint Simon Coveney as Deputy Leader of Fine Gael and as a member of the Party's Executive Council. Simon and I will work together to guide the participation by Fine Gael in the Government, and reform and modernise the Fine Gael Party in the years ahead."
Sources have stated that Varadker is only set to make minor cabinet reshuffles, with changes expected due to the retiring Minister of Finances Michael Noonan.
Leo Varadkar was first elected as a Councillor at the age of 24 and was elected to the Irish Parliament in 2007. Previous to this he worked as a GP in Castleknock. He is the son of an Indian Immigrant.
Shortly before the 2015 same-sex marriage referendum in Ireland he came out as gay during an interview with Irish broadcaster RTE. " I am a gay man, it's not a secret, but not something that everyone would necessarily know but isn't something I've spoken publicly about before," he told Miriam O'Callaghan on RTÉ Radio 1.
"It's not something that defines me,"he said. "I'm not a half-Indian politician, or a doctor politician or a gay politician for that matter. It's just part of who I am, it doesn't define me, it is part of my character I suppose".
In 2011, Fine Gael appointed Mr Varadkar as minister for transport, tourism and sport – and then health minister. More recently he as Minister for Social Protection.
Photo Cred: Doorstep