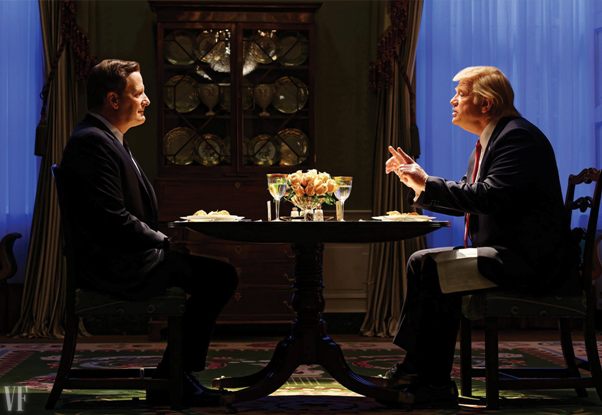 The first trailer of a mini-series in which Dubliner Brendan Gleeson plays Donald Trump has been released.
'The Comey Rule' will depict the former FBI Director James Comey – played by Jeff Daniels – as he serves under President Trump following his election in 2016.
Comey and Trump's strikingly different personalities, ethics and loyalties put them on a collision course, as per the blurb.
Gleeson is getting favourable reviews, without much in the way of what he brings to the role of the divisive U.S. President as of yet.
Esquire UK describe Gleeson's trump as "Brendan Gleeson's Trump Is Don Corleone, Emperor Palpatine And Batman In 'The Comey Rule' Trailer."
Vanity fair says "Brendan Gleeson's Trump is a thoughtless exploiter of honor systems who has no problem setting that same rulebook on fire and hurling it at anyone who displeases him."
Writer-director Billy Ray, best known for the true-life films Richard Jewell, Captain Phillips, and Shattered Glass was fulsome in his praise of Gleeson: "Here's a guy who's won plenty of awards. He's had a great career. He's sitting in Ireland, bothering nobody," Ray said. "This guy needs controversy like he needs a hole in the head. I mean, there's just no reason to invite the kind of grief that he's about to catch. And in fact, he actually turned the part down the first time we offered it to him for exactly that reason."
Brendan Gleeson apparently turned down the role out of concern that Trumps petulant behaviour and taunts would be unrelenting according to imdb.com.
The Mini Series is adapted from James Comey's book A Higher Loyalty: Truth, Lies and Leadership.
Ahead of it's scheduled release in September, producers Showtime have unveiled a first look: