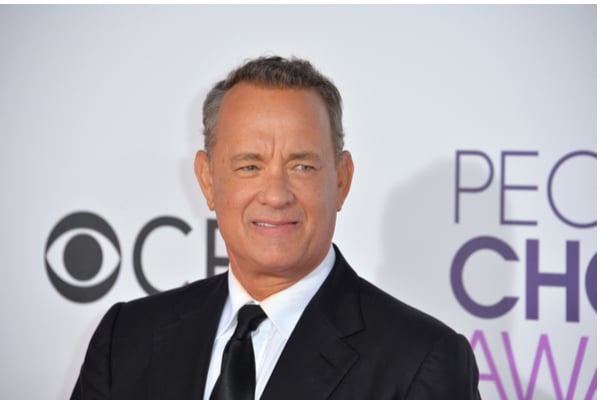 To celebrate his 65th birthday, Tom Hanks did an hour-long DJ set of obscure rock'n'roll tracks for an independent online radio station.
This DJ set is called "Songs From The Back Of The Station Wagon". It also specialises in obscure surf rock, rock'n'roll and garage rock. It was created for online radio station Boss Radio 66. 
"A bitchin year!"
This DJ set was produced by Johnny "Big Hand" Bartlett. Speaking about his birthday at the end of the show, Hanks said to the show's listeners, "It's gonna be a bitchin' year! 66! A bitchin' year!".
Radio 66's Program Director, Debbie Daughtry shared news of the program on Twitter. "Tune in to Boss Radio 66 today at NOON for a special DJ set from birthday boy, Tom Hanks", she wrote.
"Happy start to your 66th, most bitchin' year!", she also added.
More news on Hanks
Tom Hank's most recent film appearances came when he starred in Netflix's News Of The World.
Speaking following the film's release, Hank's co-star Helena Zengel bizzarely admitted that she "didn't know" that the legendary actor was a "big deal".
"If you had said 'Tom Hanks is in another movie', I would have known he's an actor and I knew he was a bigger deal than some other actors", she said. "But I didn't quite know that he's a real big deal".
Last year, Tom Hanks and his wife Rita Wilson were among the first celebrities to test positive for Covid-19. 
The couple tested positive for the virus back in March 2020 and were susbequently hospitalised. Since then, Hanks has been urging people to wear face masks. He spoke to People Magazine last year.
He said, "There's really only three things we can do in order to get to tomorrow: Wear a mask, social distance, wash our hands". 
"Those things are so simple, so easy, if anybody cannot find it in themselves to practice those three very basic things – I just think shame on you. Don't be a p****, get on with it, do your part. It's very basic. If you're driving a car, you don't go too fast, you use your turn signal and you avoid hitting pedestrians". 
My Lord, it's common sense", he also added.