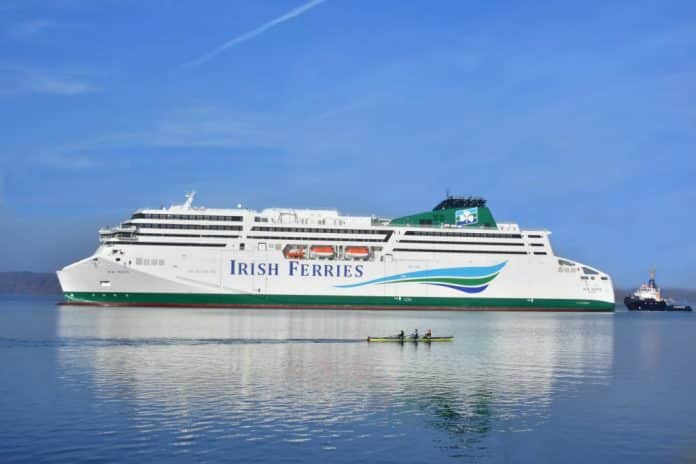 The long awaited official launch of the all-new W.B Yeats finally happened today, Tuesday 26th February, at Terminal 1 of Dublin Port.
Invited guests got the opportunity to see first hand the €144 million, 51,388-tonne ship – measuring 195 metres in length – which can hold 1,800 passengers, and has 400 cabins including luxury suites with private balcony views.
The delay in the delivery of the W.B Yeats from the German shipyard where it was being built led to the cancellation of thousands of Irish Ferries bookings last summer with about 30,000 passengers affected.
Better late than never, the new Irish Ferries ship will allow Irish holidaymakers to experience a whole new era of luxury sea travel, with refined accommodation, fine dining and a host of family entertainment.
From Thursday March 14th the ferry will make four departures per week from Dublin to France in approximately 18 hours.
CLICK BELOW TO HEAR WHAT IT'S LIKE ABOARD THE NEW FERRY
The W.B Yeats is capable of transporting 300 cars and 165 trucks. It will set sail at 16.00 on the days of departure and passengers will arrive in Cherbourg at 11.00 local time.
Speaking at the launch Andrew Sheen, Managing Director of Irish Ferries said; "We are delighted to welcome guests on board the W.B. Yeats this afternoon. While this spectacular ship is already in service on the Irish Sea, we are very excited to get her started on the Dublin to Cherbourg crossing which will strengthen our tourism and trading links with France, one of Europe's most popular holiday destinations."
Along with state-of-the-art lighting and panoramic sea views the W.B Yeats offers unlimited luggage, free WiFi on-board and the comfort of travelling from Dublin to France with your own car when you book your summer sailing on www.irishferries.com
What's On-board W.B. Yeats
Innisfree Club Class Lounge
The Maud Gonne Bar & Lounge
Lady Gregory A la Carte Restaurant
Boylan's Brasserie
Café Lafayette
The Abbey & The Peacock Cinema & Lounge
The Hazel Wood Quiet Lounge
Drumcliff Promenade Deck
Sally Gardens Kids Room
Crazy Jane's Games Room
The Shop
Relaxing cabins and luxury suites with private balconies