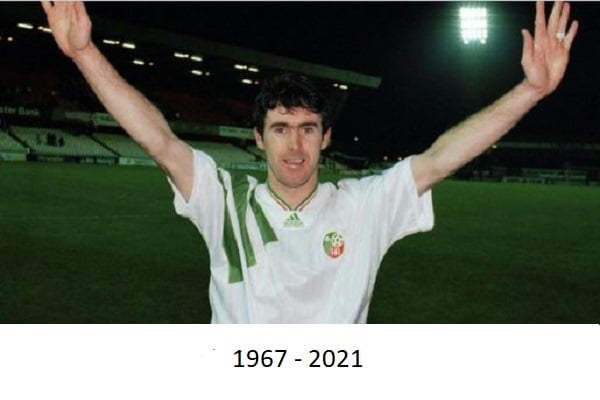 Former Republic of Ireland midfielder, Alan McLoughlin has sadly passed away at the age of 54, following his battle with cancer. Between 1990 and 1999, McLoughlin represented the Republic 42 times and scored two goals, including one quite memorable moment up north.
His goal at Windsor Park in November '93 was unquestionably his most famous, and precious contribution in a green jersey. Scoring a late equaliser against Northern Ireland earned Jackie's Army qualification to the World Cup '94 in the USA.
Born in Manchester, Alan was raised by his Irish family before being called up to Ireland's B squad in 1990. In March of that year, he scored in a 4-1 win over England whilst playing in a 'B' international in Turner's Cross. McLoughlin then went on to represent the senior side in June 1990, against Malta in a pre-World Cup friendly.
Alan was a squad for the Republic of Ireland in both Italia '90 and USA '94, before earning their Player of the Year award in '96. McLoughlin earned his final cap for the national team in November '99, playing out a 1-1 draw against Macedonia.
In an interview with The Independent, Alan reflected on his call-up to the national squad, and the call he received from Maurice Setters. Jack Charlton's assistant was on the end of the line, "offering me his hearty congratulations that I would be travelling to the World Cup finals with Ireland. I greeted the news by telling him to 'f*** off' before slamming the handset down. I was sure I was the victim of latest prank by my Swindon Town team-mates". Knowing the squad had already been chosen, there was no way Alan was "going to be the butt of jokes".
"Maurice called me again, not in the best of moods," revealed Alan. "'Listen to me son, if you ever do that again you'll be watching the World Cup at home, not playing in it. Your flight's on Tuesday morning at 10am. The tickets are waiting for you at the airport!'"
Having been diagnosed with a kidney tumour in 2012, Alan underwent a successful operation and gained himself some extra time. However, in November 2019, he received news that his cancer had spread to his remaining kidney, chest wall and lung. Revealing in March that he had been living with renal cell carcinoma, McLoughlin was due to undergo radiotherapy treatment.
FAI President, Gerry McAnaney paid tribute to Alan in a statement released this evening, saying, "Alan will always be remembered for that goal in Belfast 28 years ago, a goal that brought the entire country to its feet. He was a great player for Ireland, a fantastic footballing man who coached so many young players and a very proud family man. We were lucky to have him as one of our Irish football family and I know I speak on behalf of everyone involved with Irish football when I sympathise with Deby and his family at this most difficult of times."
FAI CEO Jonathan Hill added that the news is "most tragic", before sending his condolences to "Alan's wife Deby, his two daughters and his extended family. I spoke with Alan before we honoured him at the Luxembourg game in March and I know how proud he was of his 42 appearances in the Ireland jersey. He went to two World Cups with Ireland and will always be remembered for that night in November in 1993. May he rest in peace."
Alan McLoughlin was a household name at club-level, with his most notable spells coming in at Swindon Town (1986-90) and Portsmouth (1992-99). The midfielder scored 68 goals in 361 appearances for Pompey and was also instrumental in their run to the semi-final of the 1992 FA Cup. Portsmouth FC released a statement to acknowledge the passing of one of their former midfielders.
The club said they were "devastated" to hear about his passing and proceeded to pay tribute to their former star. "The former Blues player, radio pundit, academy coach and first team coach had been fighting a brave battle against cancer. He played a key role in the side that came so close to reaching the FA Cup final as a second-tier club in 1992 and then almost reached the Premier League the following year."
A tribute to Alan McLoughlin

We will always have that night in November 🇮🇪 pic.twitter.com/A4b6CVQBAR

— FAIreland ⚽️🇮🇪 (@FAIreland) May 4, 2021
We are incredibly saddened to learn that Alan McLoughlin has passed away aged 54

Rest in peace, Macca ❤️#STFC 🔴 pic.twitter.com/rsYFgbDV3o

— Swindon Town FC (@Official_STFC) May 4, 2021
Incredibly sad to read of the passing of Alan McLoughlin.

We will never forget Windsor Park – Nov 17, 1993.

We will never forget Alan McLoughlin. #RIP

💚💚💚💚💚 pic.twitter.com/Pox5ewZ1w4

— YBIG (@YouBoysInGreen) May 4, 2021