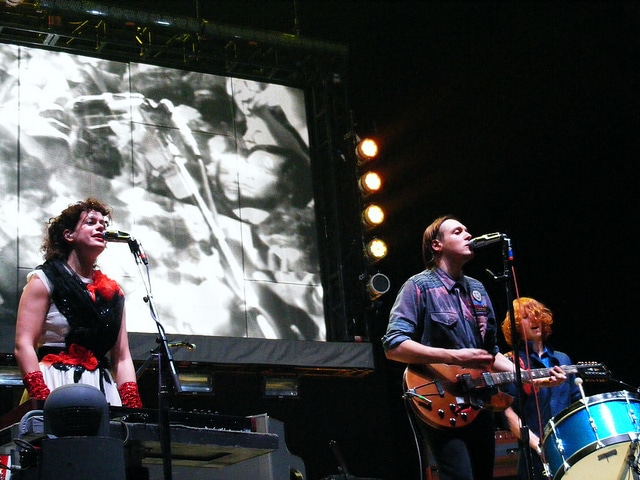 Arcade Fire have surprised fans with a new music video for their song You Already Know.
You Already Know, is the fourth single to be taken from the double album Reflektor. It is directed by frontman Win Butler.
The band's new video is a little strange. Remember those creepy period piece portraits, where the eyes would suddenly blink and come to life darting back and forth.
Well, Arcade Fire's video is a little like that, but instead of moving eyes, it's the mouths of the paintings singing the song lyrics. In fact, the eyes are covered up with little pink paper squares.
The peculiar video takes place in a huge bedroom, the walls are dotted with the weird singing portraits and the band is dressed in all white. It is also an insanely bright video, that gives it a sort of Brian Jones cult feel.
Check it out for yourself below.
Arcade Fire are currently on the last leg of their North American tour. Routinely they have been covering local musicians from the city they're playing in. It's a continuation of what seems like a ritual, on the Reflektor tour. So far on their world tour, Arcade fire have covered, Creedence Clearwater Revival's 'Hey Tonight' in California, the Canadian group were joined on stage by Blondie to play the track 'Heart of Glass' and in Dublin's Marlay Park they played Sinead O'Connor's 'Nothing Compares 2 U'.