Marty Miller broadcast his Marty @ Work show live today from Dublin's GPO today as two new stamps marking fifty years of Thin Lizzy, one of Ireland's greatest ever rock bands, went on sale.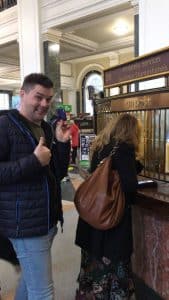 Marty joined the queues that formed at the city centre landmark this morning as fans snapped up the two new stamps and special collector stamp sheets.
The stamps were unveiled today in Bristol by the daughters (Sarah and Cathleen), grandchildren and ex-wife (Caroline) of the band's late legendary frontman, Phil Lynott.
The two national rate €1 stamps feature Thin Lizzy's Black Rose album cover and a portrait of Phil Lynott by renowned Irish artist Jim Fitzpatick and were designed by Steve Averill.  They are available at all post offices nationwide and at irishstamps.ie.
Thin Lizzy garnered a loyal worldwide fan base, attracted to their distinct twin guitar sound, explosive drums and legendary frontman, Philip Lynott. One of the greatest bands to come out of Ireland, Thin Lizzy remain giants of Irish rock, decades after they first came together in 1969.  Designed by Steve Averill, the stamps are based on the iconic artwork of Jim Fitzpatrick and cover standard postage within the island of Ireland.
Jim says "As a close friend of the late Phil Lynott, I am immensely proud to have my artwork included on these stamps. Never in our wildest dreams while working together would Phil and I have imagined that, one day, we would be acknowledged on a national stamp! It's a great honour, made extra special because another friend of mine, Steve Averill, famed for his U2 album cover artwork, designed the stamps."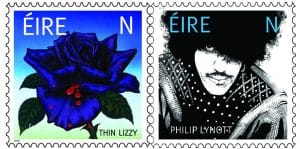 The first stamp features an image of 'The Black Rose' from the Thin Lizzy album cover of the same name. Jim describes this as "the most iconic of all Thin Lizzy's album covers".  The second stamp features a portrait of Philip Lynott which appears on the back of the 'Black Rose' album and was a particular favourite of Philip's.
On the stamp miniature sheet, with the two stamps, four band members feature within the outline illustration of The Black Rose. They are (Back L-R) Gary Moore and Brian Downey (Front L-R) Phil Lynott and Scott Gorham. This image Jim explains "is the back cover of The Black Rose album and what myself and Philip called the 'Gaelic version' with the title Black Rose in the Gaelic as 'Roisín Dubh'."
Artwork from the cover for the album 'Nightlife' also features on the miniature sheet.  Jim tells how he "was very influenced by Roger Dean at the time", (and by) "comic book artists like Jim Steranko and Jack Kirby, which were appearing in Marvel comics – and myself and Philip were huge fans."
The First Day Cover envelope artwork includes the iconic Thin Lizzy logo, designed by Jim Fitzpatrick for the band in 1974. The version of the Thin Lizzy logo which appears on both the First Day Cover and miniature sheet is an "ultra-crazy version"
Thin Lizzy Stamp Sets from #JimFitzPatrick
I present to you these very special sets to commemorate the release of the Thin Lizzy Stamps.

Check the out here: https://t.co/xpIZ8YtxXI#ThinLizzy #ThinLizzyStamps #IrishStamps #AnPost pic.twitter.com/B2DJ2Ffnv3

— JIM FITZPATRICK (@jimfitzpatrick) October 3, 2019
Jim Fitzpatrick is one of the most celebrated and internationally known Irish artists of his generation. He is an illustrator, poster artist and photographer best known for elaborately detailed work inspired by the Irish Celtic artistic tradition and his iconic two-tone portrait of Che Guevara created in 1968, based on a photo by Alberto Korda.  This image also features on an An Post stamp in 2017.  Fitzpatrick has produced multiple album artwork for Thin Lizzy including their 1976 Jailbreak album in 1976.
Jim says, "I am thrilled to have my artwork included on the stamps. I am immensely proud that my 1979 Black Rose album cover illustration and a portrait drawing of Phil that, incidentally, formed part of the back cover of that album feature on the stamps. Never in our wildest dreams while working together would Phil and I have imagined that, one day, we would be acknowledged on a national stamp! It's a great honour, made extra special because another friend of mine, Steve Averill, famed for his U2 album cover artwork, designed the stamps."