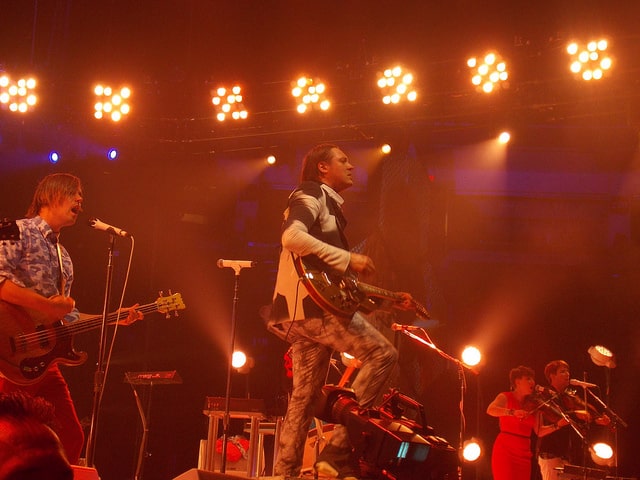 During a concert the other night at the Shoreline Amphitheatre, California, Arcade Fire played a cover of Creedence Clearwater Revival's 'Hey Tonight'.
Arcade Fire are currently on the last leg of their Reflektor tour and have cultivated a tradition of covering local artists from the city they're playing in.
So far on their tour, they've covered The Smiths in Manchester, Echo and the Bunnymen in Liverpool, played REM's debut single 'Radio Free Europe' in Georgia, the Canadian band were joined on stage by Blondie to play the track 'Heart of Glass' and in Dublin's Marlay Park they played Sinead O'Connor's 'Nothing Compares 2 U'.
Arcade Fire's frontman Win Butler stepped aside for the CCR cover and let the group's Richard Reed Parry take over the vocals for the three-minute cover.
The band are not only playing covers at their concerts, but they are allowing engagements to take place on stage. A proposal took place during a performance of 'Neighborhood #1 (Tunnels)', luckily the lady said yes, so no instruments were smashed.
Here's video of the guy that proposed to his girlfriend during Tunnels. (She said 'yes') http://t.co/tFSYL9qz1l#MountainView

— Arcade Fire tube (@ArcadeFiretube) July 31, 2014
Arcade Fire's Richard Reed Parry recently performed a special musical composition based on the human heartbeat. Parry was joined by fellow band member Sarah Neufeld and the London Contemporary Orchestra for the special event. The performance piece is set by the heartbeat pace of the musicians, the idea is based on Parry's solo record 'Music for Heart and Breath'.
Watch the Creedence Clearwater Revival's 'Hey Tonight' cover below.